Economics building evacuated after bomb threat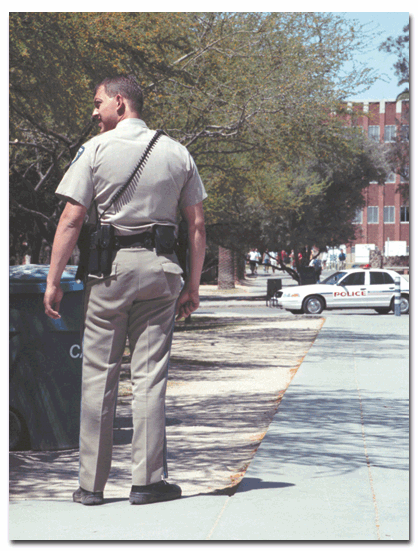 Matt Heistand
Arizona Daily Wildcat
University of Arizona Police Officer Josh Highland looks back at the evacuated Economics building during a bomb scare yesterday afternoon. The police found no bombs in the building and reopened it 30 minutes after the evacuation.
Scare causes class cancellations
University police evacuated the Economics building yesterday after an unidentified male called in a bomb threat.
At 12:50 p.m., the University of Arizona Police Department received a call on a non-911 line from a male who said that a bomb would go off in about 30 minutes in the Economics building, 1110 E. North Campus Dr. , said UAPD Sgt. Mike Smith.
By 1 p.m., university police had begun evacuating the building, forcing numerous students out of class and to the east side of the street by the U of A Bookstore.
Some classes were in the middle of lectures and tests when the evacuation started.
"There was a guy in my class who said the cops were asking people to leave before the alarm was tripped," said Tanya Diffie, a communications graduate student, who was giving a lecture to her Communication 102 class during the evacuation.
At 1:15 p.m., UAPD officers pulled the fire alarm and began a cursory search of the building to determine whether there was a bomb.
No one besides university police officers were allowed near the building and the bike racks on the premises.
"They (the professors) said, give us your papers and go," said Tim O'Brien, a political science junior. "I just want to get my bike."
Once the police had finished searching the building and the time had expired on the threat, the building was reopened at 1:35 p.m. and everyone was allowed to return, though many instructors had already let their students leave.
Smith would not speculate on whether this threat was a "copy cat" of the ebola scare on March 31, but said that the UAPD is familiar with these threats.
"We have had these types of things before," Smith said. "Nothing happened, fortunately."