Activists use puppets in downtown protest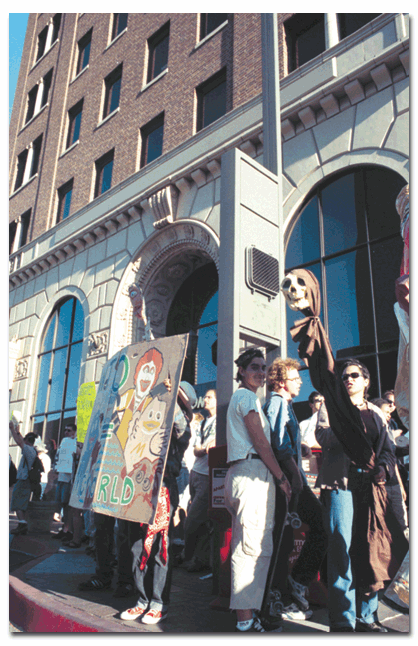 Gavin Stevens
Arizona Daily Wildcat
Local artist and puppeteer Matt Cotten stands aside his work "Big Head Giblets" at the Tucson Puppet Works opening last Friday night. The company will have puppet shows beginning on April 29 at 111 E. Congress St.
UA, Tucson demonstrators chant against IMF and World
UA students and Tucson activists opposing the International Monetary Fund and World Bank meeting in Washington, D.C. rallied with posters and puppets in front of the downtown Bank One yesterday.
Two seven-foot-tall puppets in regal gowns - representing an African country's prime minister and his daughter - battled on the Norwest Bank lawn with the "bad" IMF puppets who were supposed to help the Third World country.
"Mario," another puppet representing the closed Washington, D.C. protest headquarters, dragging a small caged Ronald McDonald also joined the action.
In protest of the two financial institutions, demonstrators pitted against globalization and the aid poor countries are getting from the organizations.
About 50 protesters shouted, "IMF has got to go, hey hey, ho ho," repeatedly at rush hour traffic, while drivers honked in return.
Another skit depicted a bar graph that showed the growing income disparity between the wealthy and the poor.
University of Arizona anthropology senior Rachel Shively, also a Tucson Arts Brigade member, played the "bottom 20 percent" demographic, struggling to run a few steps toward an increased income.
The "Top Dog," wearing a suit and carrying cellular phone as a representation of the rich, raced ahead the bottom percentage characters competing in the track race skit.
Another protester touted a poster depicting the skit's income distribution from 1947 to 1979.
"I like that there were visuals, like the puppet show (and) street theater," Shively said. "It's a creative way to get the message across."
The protesters in Washington failed to stop the IMF and World Bank meetings held Sunday and yesterday. About 70 National Guard troops surrounded the organizations' buildings in downtown D.C.
Shively said the United States has a strong impact on IMF's decision.
"For people in this country to disagree is important," she said.
Lisa Sturdivant, an environmental sciences freshman, said she joined the demonstrators to show solidarity.
"It's enough people to cause a little attention," she said.
Sturdivant played the runner who keeled over in honor of poverty-stricken children who have died around the world.
She said she expected the protesters in Washington to be more rowdy than they were, but disapproved of the arrests. About 90 protesters were arrested yesterday, bringing the total to more than 700.
"I think it's a lot tamer ... arresting people who are protesting fully is ridiculous," she said.
The Associated Press contributed to this report.