'Professor of the Year' honored in impromptu ceremony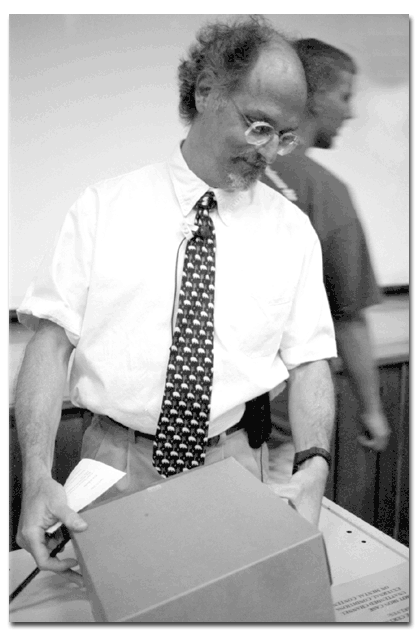 Amy Winkler
Arizona Daily Wildcat
Classics professor Dr. Jon Solomon opens a box containing a celebration cake yesterday afternoon in Modern Languages 350. Dr. Solomon received the five star faculty of the year award.
Students congratulate classics prof Solomon
As the procession of UA's Five Star Faculty Award Committee moved down an aisle in professor Jon Solomon's classroom yesterday, he looked on in confusion.
Totally unaware of having been awarded Five Star Faculty of the Year, Solomon, a classics professor, stood spellbound, hands to his side and eyes wide with wonder.
After the announcement, the class of about 500 students burst into cheerful applause to congratulate Solomon with whistles and hollers.
That is when Solomon, a professor of 18 years, smiled.
"I've been nominated a number of times before," Solomon said, but added that he had never before enjoyed the honor of being named teacher of the year.
Solomon will receive $1,000 and a plaque and will also be recognized as the Five Star Faculty of the Year at the university teaching award ceremony next week.
"I try to listen to the students - they are people, too," said Solomon.
Solomon also said that he has managed to reach out to his students, all the while inspiring and evoking a thread of hope in those who felt they had none.
"I've had a student who wrote me a note telling me that I've saved them from committing suicide," he said.
Marketing sophomore Dave Roth said he has taken two courses from Solomon and intends to take another in the fall because he is so drawn to Solomon's dedication and the interest he evokes in his discipline.
"I had a Greek mythology class with him last year, and that was the only class I went to every single time," Roth said. "He's never boring, and he understands his students."
Roth added that Solomon's teaching techniques - like his incorporation of personal slides from his overseas adventures - make a big difference in keeping students' attention.
Committee member Kristen Gregory, a history junior, said Solomon, who won after competing against five other professors campus-wide, came out on top because of his teaching techniques.
"He was the most enthusiastic, and he seemed to inspire students," Gregory said. "We spoke to some students in the past, and some were not even doing well but after they had him they snapped back in."
Jake Scott, a Spanish and literature sophomore, also noted Solomon's manner and some of his techniques as having a dominant role in student success.
"He is by far and away one of the greatest teachers here," Scott said. "He makes the class interesting not just by giving the facts and the data."
Another committee member, Samantha Zipp, said "his overall rapport with the students and his enthusiasm with the students" are values that lead him toward the award.
"I observed him during his class, and he was able to keep the attention of all 500 students," said Zipp, a psychology and business freshman.
The 20-year-old committee, sponsored by the University of Arizona Honors college, accepted nominations from students since the start of the semester. Professors with the highest number of nominations were reviewed and observed and then student evaluations were taken, Gregory said.
Patricia MacCorquodale, Honors College dean, told the auditorium of students that "this is the most prestigious award on the university campus because it is student-run and student-nominated."
In his "acceptance speech" to his students, Solomon said, "this is particularly awarding to me because I have put a lot of time and effort into my teaching."
As students looked on, sometimes nodding their heads in agreement, he added, "I believe in what I do - I've written about it (and) I've spoken about it."
Before returning to his teachings, Solomon told his large class of silent onlookers that earning the award means "words have gotten around that I can still grill (my students), terrify them, inspire them."