Rivals clash in Tempe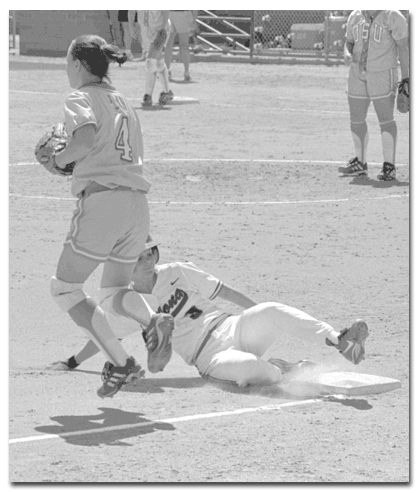 Eric M. Jukelevics
Arizona Daily Wildcat
Senior outfielder Lindsay Robinson slides into third during the Wildcat's 4-1 victory April 2 against Oregon State. Arizona, which is ranked second in the country, travels to Tempe today to face No. 4 Arizona State in a two-game series that could help determine the Pac-10 champion.
UA goes after season sweep of ASU
With the strength of the Pacific 10 Conference, every game the UA softball team plays has large implications. Tonight and tomorrow's games against Arizona State are a little different, though.
The Wildcats (44-6 overall, 7-3 Pac-10) bring their No. 2 ranking into Tempe with more than just victory on their minds. Arizona also has a bit of additional motivation against the No. 4 Sun Devils.
After beating Arizona State (36-10, 4-6) 3-1 in Tucson on April 4, UA is glad to get the chance to face Sun Devil sophomore pitcher Kirsten Voak again.
"Oh, their pitcher, she's just really cocky," sophomore pitcher/first baseman Jennie Finch said. "We just basically want to take her out of the game."
UA senior second baseman Katie Swan and junior third baseman Toni Mascarenas each touched up Voak for solo home runs in the game on April 4, ensuring the Arizona victory.
Voak, an All-American last year, has a 25-4 record with 238 strikeouts and 11 shutouts this season.
Finch will face Voak in tonight's game and is hoping to bounce back from losing her first game of the season last week at Washington.
To regain her form, Finch said she wanted to "basically, just shut them down and don't let them score and start blowing them away."
The in-state rivalry has been heating up all week, though UA head coach Mike Candrea has been down playing the two-game series as a rivalry, by saying every team in the Pac-10 is a rival.
"We are fired up, we are just going to take it out on ASU," junior first baseman Erika Hanson said. "It's huge, you never want to lose, if you are gonna lose, though, you don't want to lose to ASU."
To ensure Wildcat victories, though, UA must regain its offensive attack that was held scoreless in two games against the top-ranked Washington Huskies last weekend.
Arizona batters managed just eight hits in the two games, six of which were singles. More importantly, UA seemed to lose its aggressiveness at the plate.
Junior catcher Lindsey Collins said the team needed to be more aggressive against Voak and "just jump on her early."
"We were taking too many strikes (against Washington)," she said.
Saturday's contest will pit Arizona junior pitcher Becky Lemke against ASU sophomore pitcher Erica Beach.
Lemke went 1-1 last week, earning an important victory against the No. 3 UCLA Bruins in Los Angeles.
The Wildcats have been preparing for the two-game series by working on their hitting and defense at practice this week.
"We really concentrated on hitting for one day and fielding the next," Hanson said.
The games also mark softball bragging rights for the state of Arizona, especially for Arizona natives - Swan, Lemke, junior pitcher Teresa Ayoub, senior outfielder Lindsay Robinson, junior infielder April Richardson and freshman outfielder Lindsey Rice.
"To me, every team is a rival," Collins said. "ASU is the biggest, though, because it is in-state."
Chris Martin can be reached at sports@wildcat.arizona.edu.