Comedy of Errors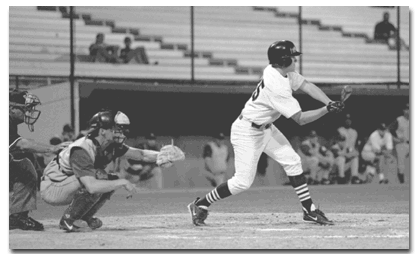 Matt Heistand
Arizona Daily Wildcat
MJunior Trevor Mote squares around to bunt last night at Sancet Field. The Wildcats lost 12-4 last night to Washington State, as sophomore Ben Diggins took the loss for Arizona.
Defense fails Wildcats in 12-4 loss to Cougars
It was almost laughable.
The UA baseball team, needing a sweep against Washington State to keep their Pacific 10 Conference title hopes alive, fumbled their way through a 12-4 drubbing at the hands of the Cougars last night.
"There's not many positives we can take from this game," UA head coach Jerry Stitt said. "We had four errors and beat ourselves."
The Wildcats jumped out to a quick 4-1 lead afer three innings behind a two-run triple by senior centerfielder Troy Gingrich.
The Cougars, bolstered by the pitching of senior left-hander Todd Meldahl, began to methodically take apart the Wildcats.
A five-run fifth inning capped off an 11-1 run by WSU, as the Cougars prevailed, 12-4.
Sophomore Ben Diggins took the loss for the Wildcats. The right-handed ace allowed nine runs in just 4 1/3 innings en route to his third straight loss. Diggins, who began the season 8-0, also walked a season-high six men in the effort.
Meldahl pitched 7 innings and improved his record to 2-5 on the season.
Following the game, UA head coach Jerry Stitt blamed Diggins' excessive movement for the loss.
"It's all (catcher) Mike (Myer) can do to keep the ball in his glove," Stitt said. "It moves too much for (Diggins') own good. He's gotta learn to keep throw the ball down the middle of the plate and wait for it to break."
Worse yet, the team may have lost its ironman in the process.
Junior shortstop Keoni DeRenne, who has played in 151 consecutive games, pulled his hamstring while attempting to hurry a throw in the fourth inning.
It was one of the team's four errors.
"Keoni pulled his hamstring," Stitt said. "He probably won't play tomorrow."
Following the game, Stitt blasted his team's defense, which has dropped from sixth in the country in 1999 to last in the Pac-10 this season.
"Keoni had an error on an easy play and (first baseman) Ernie (Durazo) threw the ball into left field on a ground ball." Stitt said "It's a debacle."
Rafell Jones, making a rare start in left field, knows a lot about frustration. A defensive back for the 1999 UA football team, the senior has experienced a lot of disappointment this year.
"Talk is cheap," he said after the game, "We need to stop talking. We need to react postitvely and get back out there for the next two games."
Jones believes that baseball offers more opportunitites to atone for previous games and mistakes.
"In football, you only play one game a week," he said. "Baseball gives you a chance to come out and play (the next game). (The key is) to treat every game like it's the last. Right now, we need to take the good with the bad and get back out there."
Arizona will "get back out there" tonight at 7 and Saturday afternoon at 1 at UA's Sancet Field.
In doing so, the Wildcats hope to have the last laugh against the Cougars.
Ryan Finley can be reached at sports@wildcat.arizona.edu.