Moby rewards awaiting fans with tremendous show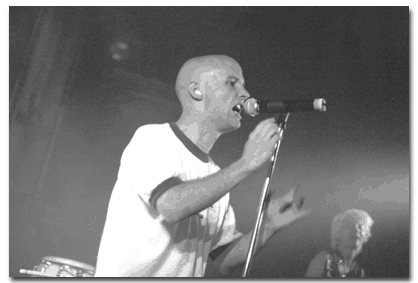 Arizona Daily Wildcat
Moby sits still for a rare moment during his performance Monday night at The Metro. The high energy musician constantly changed instruments as he ran and jumped around the stage giving all he had to an equally excited crowd.
Award-winning musician treats fans to energetic, lively
Amidst a sea of waving hands, glow-sticks and dancing silhouettes, pop-superstar Moby turned a room full of anticipation into a musical and visual experience unlike no other in Tucson.
In an exclusive and free club-concert sponsored by 92.1 KFMA, fans of the award-winning musician were treated to an intimate, rave-like concert Monday night at The Metro, 296 N Stone Ave.
Whether he was singing, playing the bongo's or merely running around the stage, Moby looked to be immersed in the music for the entire show - just as the audience was connected to his energy.
In typical Moby fashion, he interacted with the crowd, emphatically thanking those in attendance for their fervent reaction and participation while introducing each song with short, emotional monologues.
He introduced "Porcelain," a song off his Grammy-nominated album Play, by saying "This next song is a sweet and delicate love song."
Later he gave a humorous anecdote about his break-beat re-mix of the James Bond Theme featured on his 1997 "I Like to Score" album.
"A few years ago, I did a few songs for a James Bond movie," he said "It was called 'Tomorrow Never Dies', and it was an absolute piece of shit."
Playing a wide range of songs, Moby enticed the audience with multiple speed hits. The crowd conformed to the musical pace, dancing and singing along with the each song.
On slow, self-absorbent songs like "Porcelain" and "Why does my heart feel so bad?" the crowd grooved with the tempo and heart-felt lyrics. On the break-beat, jungle and trance tunes, the crowd looked alive, pulsating with every beat, every move, and every light spilling off the stage.
While Moby changed the pace of both his tunes and on-stage movements, one thing was certain - he did everything with a dramatic, high-level of emotion.
He integrated his unyielding drum-work on fast-paced, jungle songs like "Go" and piano on slower songs like "Why does my heart feel so bad."
While he played hits from Play, including "Honey," "South side," and "Natural blues," songs from the Animal Rights, and I Like to Score albums.
Despite his over-all control over the crowd, Moby was humble, taking time out to acknowledge those who couldn't see the stage. He also added tongue-in-check comments that drove the audience wild.
"I may be a piss-poor judge of this, but this is a popular hit called 'Body Rock,'" he said, before playing the first song released from the multi-platinum Play album.
He also took time out to thank the other performers who played along side him, including drummer Scott Flacetto, a Tucson native.
Moby humored the crowd throughout the entire evening. After playing a mock guitar solo, complete with his contorted "guitar solo face," he joked with the crowd while introducing his deejay, DJ Spin Bad.
"My self absorbent, masterbatory guitar solo may have represented the last century, but you (Spin Bad) are going to take us into the next one," Moby said after DJ Spin Bad did a solo piece.
Before playing "If things were perfect," Moby soothingly said to the audience "Sometimes I like to think of the audience naked and having sex with each other."
The encore was nothing short of spectacular. After returning to the crowd chanting his name, Moby conversed and played with the audience.
"Now, trying to be a perfectionist, I need make this the perfect finale," he said. "Are you ready to rock? I said, are you ready to rock?"
The crowd yelled in anticipation, and Moby rewarded them by singing "Why do birds suddenly appear..." from the Carpenters' song, "Close to You."
Finally he introduced his encore song titled "Thousand," which, according to Guineas Book of World Records is the fastest song ever recorded with 1,015 beats per minute.
Although he did not sing, the on-stage visual effect was amazing. Smoke filled the club as blue strobe lights flickered off Moby, posing with the music in a trance-like state. As Moby pumped his fists to the beat, picking up the pace as the song progressed into a machine-gun tempo.
The crowd tried in vain to keep up - it was just too fast.
Mark Randal, promotions director from KFMA said an estimated 2,000 fans attended the show. Guest deejay Alex Ruiz opened the show.
Ty Young can be reached at catalyst@wildcat.arizona.edu