Rep. Jim Kolbe pays visit to UA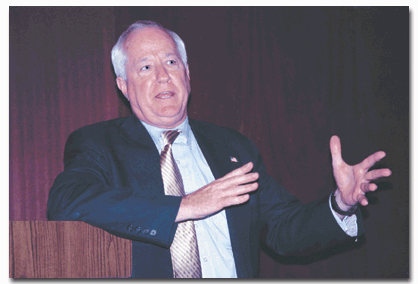 Aaron Farnsworth
Arizona Daily Wildcat
Congressman Jim Kolbe speaks Wednesday to gathered students and staff in the Memorial Student Union. Kolbe addressed issues directly pertaining to the university scene including government funding and student financial aid.
Congressman addresses wide range of topics, including
Fielding questions ranging from student financial aid to the lack of a statistics department at the UA, U.S. Rep. Jim Kolbe visited campus yesterday for a congressional forum to converse with the Arizona residents, including the university students he represents.
Kolbe, R-Arizona, began his discussion with the 50-person audience gathered in the Rincon Room of the Memorial Student Union by stressing the importance of balancing research and education at the UA.
He added that the federal government has an important role in the education of America's students by providing the federal funding for universities to operate.
Kolbe also termed federal financial aid a "cornerstone" for college students, but suggested new graduates be able to repay their debt to the government by way of public service, such as joining the Peace Corps. He also suggested raising the value of Pell grant awards
After opening the audience up to questions, Kolbe - an open homosexual - faced several questions particularly relevant to the gay community.
When requested to introduce legislation allowing for the civil union of any two adults - including, but not exclusive to gays - Kolbe said he supports the idea that any two people should be able to form a legal partnership but stopped short of promising to propose a bill.
"I do favor the idea of legal rights of those people," said Kolbe, who said he does not like to use the term "marriage" when referring to gay unions. "I confess, it's easier to say that than to figure out how to do that legally... but I think we're headed in the right direction there."
Keith Gawronski, an anthropology senior who broached the civil union subject with Kolbe, said he was disappointed that Kolbe did not directly address his question.
"I don't think he responded to my question," he said. "I would prefer a clearer answer to my question."
Kolbe also said that though some of his philosophies have changed regarding the Defense of Marriage Act of 1996, which does not require states to recognize gay marriages, he still stands by his original support of the bill.
However, Kolbe did say that it is "outrageous" for employers to discriminate against potential employees because of their sexuality.
Other topics were raised by another audience member, including regulating the existence of child armies in third world countries and the treatment of women in Afghanistan.
Another audience member was concerned with the lack of a statistics department at the UA. The department was eliminated in 1995, although statistics courses still exist in the mathematics and sociology curriculums.
Kolbe said he appreciated those audience members' comments, but said their concerns were beyond the auspices of the federal government.
However, Kolbe was able to decisively quell one audience member's concern about the federal government restricting Internet content, something Arizona Rep. Jean McGrath, R-Glendale, tried to enact at the three state universities last year.
"It's hopeless if you try," Kolbe said. "There's just no way that we prevent you from having that kind of access."
Seth Frantzman, UA College Republicans president, said he was pleased with the forum's turn-out and the range of topics discussed.
"Although some of the questions seemed a bit provocative, he answered them very well - very professionally," Frantzman said.
Frantzman added that although Kolbe is busy with his duties in Washington, he still cares enough about his district to return for regular visits.
"He's a political man of the people," he said.