Gottfredson wants to showcase UA's strengths in education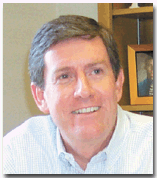 Arizona Daily Wildcat
Undergraduate education VP one of five candidates for
Michael Gottfredson, vice president for undergraduate education, would like to make the UA more accessible to everyone.
Gottfredson - one of five candidates being considered for the provost position - said that he received a superior undergraduate education at the University of California-Davis, and that every student at the UA should have a chance at the same.
"(Everyone) needs to know what a great treasure this university is," Gottfredson said.
He said the UA's research is one of its strengths.
As an undergraduate student at UC-Davis, Gottfredson worked in a plant genetics lab and then as a research assistant for a law professor. It is through those two positions that Gottfredson said he learned the value of a research institution.
"It hooked me on a research career," Gottfredson explained. "I had an outstanding undergraduate education. That's an obligation of a research university to provide an outstanding education."
While the university serves that duty, Gottfredson said that they also must advertise the UA as a good place to attain an undergraduate education.
"(The UA) has to constructively find ways to remind the public of the enormous value of this university to this state," he said.
Gottfredson said the next provost faces two critical issues - course availability and discipline availability for the student body.
"We've worked hard on making classes available," he said. "We have to work hard to balance student interest with our ability to provide the courses."
Sharon Kha, UA associate vice president, said that Gottfredson would be a good selection as provost because of his experience with the undergraduate program.
"(As interim provost) he was very responsive and he delt with issues quickly," Kha said.
Like many others in the community, Gottfredson said he thinks that funds are needed to maintain the quality of the UA.
Without an increase in outside funding it may be difficult to expand the university's impact on the state, he said.
"We seek to have an impact on every individual we touch," Gottfredson said.
Outreach programs are one way that the UA could reach more in-state students and minority students, Gottfredson said.
"I think we need to make the university accessible to all the citizens of the state and I am very eager to increase the outreach programs," he said. "Enhancing the diversity of our student body and faculty should be very high on the priorities of the provost."
But the university population is growing, Gottfredson said, and now boasts nearly 50,000 people including students, faculty and staff.
"When will the campus become too crowded?" Gottfredson asked. "The university needs to engage in a dialogue about that immediately,"
Though the UA faces many challenges in the near future, Gottfredson said he believes this university is a quality research institution.
"My image of the university is that people when they think about going to college they need to realize, it's not possible to do better than the University of Arizona," he said.