Researcher's experiment leads to evacuation of Bio Sciences East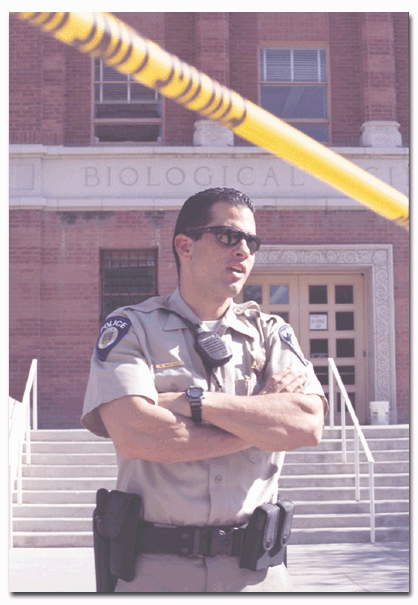 Arizona Daily Wildcat
Suspected natural gas leak turns out to be poisonous
At least 75 students from the Biological Sciences East building were evacuated yesterday after a suspected natural gas leak turned out to be a poisonous chemical.
University police received a call at 3:18 p.m. about a possible gas leak from a passerby, and immediately sent all available resources to the scene, according to Sgt. Michael Smith, UAPD spokesman.
"It sounded big, so everybody that was on-duty responded," Smith said.
Lloyd Wundrock, University of Arizona environmental safety officer, said crews discovered the odor was emanating from near the Shantz building next door, and that the source was the poisonous gas methyl selenol.
"We don't know the characteristics or vapor pressure, or even what it is used for," Wundrock said. "There was not a major risk to the students though."
Herb Wagner, UA facilities management assistant supervisor, said researcher Jurgen Guiles was transporting a glass ampule - a container used for preserving chemical sample purity and extending sample shelf life - filled with the poisonous chemical from the Shantz building to the Chemistry building when a "natural gas-like" odor was released from the container.
Wagner said the same researcher was working with the methyl selenol container in a chemical hood last week when its seal broke.
He added that Facilities Management responded to the Shantz at that time, but discovered the odor source before evacuations were initiated.
"(Today) he was transporting the container over to the Chemistry building to get it repaired when the odor was released," Wagner said.
According to UAPD Cmdr. Kevin Haywood, "(the ampule) released a couple of molecules," but students were never in danger.
Philip Keller, UA professor of chemistry, said methyl selenol is a highly unusual and dangerous chemical.
"It is a fairly exotic substance without much application," Keller said. "It involves compounds that are not very nice."
He added that releasing a small amount of the chemical can lead to a far-reaching odor.
Police cordoned off an area immediately surrounding the building, preventing students and cars from passing.
Animal science senior Christina Davis said she was studying on the second floor of Bio East, 1330 E. South Campus Drive, when she heard the commotion outside.
"I looked outside and saw cop cars pulling up. About five minutes later the fire alarm was pulled, and we were evacuated," Davis said.
Students and faculty were kept out of the building for 50 minutes while crews from Tucson Fire Department, Southwest Gas and the hazardous materials team investigated the odor.