Head of the class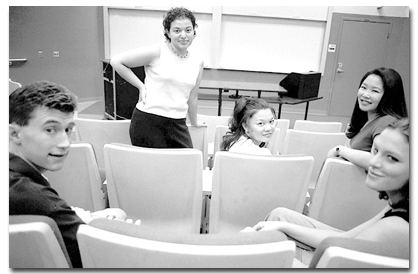 Wildcat File Photo
Arizona Daily Wildcat
Finance major Ryan Weissmueller (from left), theatre arts major Angie Kamel, optical engineering major Kristi Chin, veterinary science major Cindy Takeuchi and speech and hearing sciences major Molly Snow are gathered in an undergraduate classroom for the last time. These graduating seniors finished in the top of thier respective departments and have either earned a position with a professional corporation or have been accepted into a post-graduate program.
After four to five years of work, academics and fun - when they had time - these five seniors were voted by University of Arizona students and professors as the top graduating seniors in their respective departments.
Graduating at the top of their individual departments, the students - Molly Snow, speech and hearing sciences; Cindy Takeuchi, veterinary science and microbiology; Kristi Chin, optical engineering; Angie Kamel, theatre productions; and Ryan Weissmueller, finance - have sometimes been forced to endure mockery for the sake of their goals and passions, drawbacks and faults.
Enthusiastic about their field of work, each student has already either earned a position with a professional corporation or has been accepted into a post-graduate program.
As their friends, professors and colleagues have attested, this bunch of go-getters have paved the way, earned their mark and are ready to succeed in the larger world.
KRISTI CHIN
Optical engineering
Being the only female in a male-dominated occupation can be both intimidating and stressful, said optical engineering senior Kristi Chin, but she managed it.
"First, it was very discouraging, and it made me think twice about being in the major," said Chin, who is the top graduating senior in her department.
"No one talked to me, but my parents told me to stay with it, and I found I liked it a lot," she added.
The only female of five graduating with a degree in optical engineering this semester, Chin was formerly interested in computer engineering but changed her major because she wanted to make a distinction.
"I saw that there were a lot of computer and electrical engineers, and I wanted to make myself more unique," she said.
Jim Palmer, optical engineering research professor, noticed Chin's uniqueness and said that in comparison to other students, she always pushed until she reached the top.
"I compare her against some of the guys who, perhaps, have some more mental horsepower in the program, but she outdoes them all," Palmer said. "She's very conscientious, always on time and she goes the extra mile."
After four years interacting with Chin, optical engineering senior David Irwin said he knows she will be a success.
"Kristi is a very hard worker, she's fun to hang around and she is absolutely dedicated to her school work," Irwin said. "She's always willing to lend a hand with difficult course work by tutoring."
About Chin being the only female in their class, Irwin said he has great admiration for her, especially since Chin has overcome many of the obstacles involving gender bias.
"It takes a special constitution to be the only woman in our class," he said. "To me, it seems to say something that she was willing to pursue a field where there were not many women to stick it out."
Jason Helmrich, also an optical engineering senior, said he not only admires her ability to conquer the male dominated class, but she never gave into the struggle.
"Sometimes, the guys made jokes, but it didn't really bother her because she's bigger than that," Helmrich said. "She knows a lot, and she has a lot to offer."
He also said that once the men realized how intelligent and well prepared she was - because she usually scored highest on the exams -they usually went to her for help.
Chin, who has about a year of professional experience in her major, plans on continuing her work with Veeco Metrology as an optical engineer.
"She's in on the first big tidal wave of the optics explosion," said Mike Nofziger, optical sciences instructor.
Nofziger, who said he introduced leads in order to guarantee Chin a position as an applications engineer at Veeco, added that she was the one student who took the initiative to earn the position.
"The same opportunity goes to all the students but she expressed an interest, pursued it and got it," he said. "This background will serve her well because she's hard working and applies herself really well."
Chin will be testing software, measuring materials and detecting scratches and indentations in surfaces - all tasks that are typical to the field.
"There needs to be more knowledge of the field," she said about some of the problems facing the profession.
"If I could, I'd like to be a mentor in a year or so, but I am going to stay here in Tucson because there are more jobs and I want to stay close to my family," she added.
All the while, she said she will carry what she knows and gather great accomplishments in a field where she knows she won't be just another cookie-cutter figure among the rest.
"If problems were easy to solve, they'd solve them on their own," Nofziger said. "There are some challenging problems, and I think she'll have some fun with that."
ANGIE KAMEL
Theatre productions
In any given performance, there is one person holding everything at bay.
The lights don't shine, the music doesn't play and the actors don't act until the production stage manager gives the cues.
Graduating theatre production senior Angie Kamel did just that in several University of Arizona sponsored performances.
"I was in charge of all personnel and assisted directors for scheduling, as well as the clerical work that goes into it," said Kamel, who was voted the Outstanding Graduating Senior in the theatre arts department.
Peter Beudert, head of the design and tech program, worked with Kamel on four Repertory productions and said he can see her passion for theatre.
"What she takes seriously is theatre itself," he said. "She believes in what she does, and she believes in the power of theatre."
He added that "the kind of dignity she brings to what she does is what people get off on."
Kamel produced the Underground Theatre's "Workshop IV" and was the stage manager for "Kiss Me Kate" - the largest production of the 1999-2000 season - and properties master for "The Elephant Man" and last year's "Six Degrees of Separation."
This experience, she said, will eventually take her as far as Broadway, but for now, her plans are in Illinois.
"While all of those things are available in New York, they tend to focus on Broadway and musicals, but I'd like to try Chicago first," Kamel said.
"From what I've read, it's more intimate and there are a lot more theatres to work with new plays - that is what I love," she added.
Throughout her educational career, she gathered a reputation for playing an enthusiastic role and an eager addition to the production while working in UA's Arizona Repertory Theatre shows - like "Kiss Me Kate."
"She was my favorite stage manager," said Kimberly Goldman, musical theatre senior. "She's outgoing, friendly and well organized - she doesn't do it in a rude matter."
Summing up her work, Kamel was the schematic and social Band-Aid of several theatrical productions.
"She's in constant focus of helping the people around her," said Jim Driscoll-MacEashron, an acting and directing sophomore.
"She's worked as hard or harder than anyone I know, and every year, she keeps a very strong, creative attitude around everyone," he added. "If there was a problem or issues between actors, she always made sure things were OK."
Harold Dixon, head of the acting faculty, said he admired Kamel's perseverance, willingness to help and outward motivation.
"She's got a great personality, she's really sweet and a lovely person, as well as a take charge person," said Dixon, also a theatre arts professor.
Dixon directed "Kiss Me Kate" while working one-on-one with Kamel and said he noticed a spirited individual who didn't mind taking charge.
He said, "I told her parents, 'You guys do understand that Angie (Kamel) is in charge of this whole thing,' and her dad was laughing saying, 'What have you done to my little girl?'"
Dixon added that Kamel was working with a 100-person orchestra, crew and huge cast, with moving sets.
As Kamel moves on to the stage of her life - Carefree, Nebraska's Post Playhouse - she said she intends to make the most of her life and her career.
"This is my passion, this is my life," she said. "I can't imagine myself doing anything else because everything I love is right here."
MOLLY SNOW
Speech and hearing sciences
Fleeting words pose problems for many of the children and elders whom speech and hearing senior Molly Snow works with.
But she doesn't let a language barrier stand between her and her work - she uses it to assist in her research.
"I worked in a pschyolinguistics lab to see how people produce and use language," said Snow, the top graduating speech and hearing sciences senior. "I worked with college-aged subjects (and) 65 and older," she said.
"In speech and hearing, I worked with pre-schoolers who had speech impairments," Snow said, adding that people with speech impairments typically have normal to above average capabilities in areas other than language.
LouAnn Gerken, associate professor of speech and hearing sciences and linguistics, said Snow has a genuine concern for her work that is demonstrated in her efforts.
"Every situation she finds herself in is slightly different and is about knowing information she learns in class," Gerken said, adding that Snow always tests new ideas.
"She sees how it works in new situations and thinks quickly while doing the right thing," Gerken added.
Snow said she believes she can help ease the human spirit - which is constantly antagonized by curable vices - and she plans to further her efforts as a neurologist.
"I realized the one thing I am interested in is neurology," Snow said, adding that she intends to earn a doctorate in neurological sciences.
"Right now, I'm thinking about Alzheimer's because it's something horribly depressing to see people go through," she said.
Snow added that her plans are to apply herself into the research because if she and her colleagues could make a situation better - even for one or two years - it would be monumental for family and patients.
Psychology senior Shana Spector said she has observed Snow in her work and has walked away with a feeling of confidence in her.
"She's dependable and responsible - she's going to make a good neurologist," Spector said. "She knows her anatomy, and she knows how things work in the body."
Snow, who is also interested in outdoor activities like hiking, is also active in UA's Students Against Sweatshops organization.
She said she does not want to be dominated by ignorance, so she tries to immerse herself in issues that revolve around human suffering.
"I've been in SAS for the last four years," she said. "It was something I didn't know about until I ran into someone on campus and realized it was something I was totally ignorant to."
Gerken said she admires Snow's willingness to get involved no matter how high the stakes are set or how difficult the issues may be.
"She was one of the students who was involved in the sweatshop protest, and I find that really admirable," Gerken said. "She just managed to juggle that, and she was very involved in it - she has a really strong moral center. "
Gerken added that she admires Snow's independence, as well as her unique personality.
"She doesn't just want to get by, she wants to make a difference in the world," she said. "Students like her don't come along all the time, and she's one of the best students I've ever taught here."
CINDY TAKEUCHI
Veterinary science and microbiology senior
The field of biology-related sciences entails a variety of laboratory research on host-parasite relationships, infectious diseases in animals and cloning.
Graduating veterinary science and microbiology senior Cindy Takeuchi has worked in each of these fields, but she has cloned organisms most often.
"Mainly, it's testing vectors and doing animal studies," said Phoebe Luo, research assistant in microbiology.
"Most of the time, she's working on cloning stuff, especially with animals - and she's been successful," Luo added.
Yearning for a change of scenery, Takeuchi said she is "going into a laboratory position because it's more of my way to get out of the side of academia - to calm myself down."
She said the laboratory work has her hooked because of "the precision and the detail - I am persistent, so it suits me working out problems, being logical and creative."
For her constant dedication and accomplishments, Takeuchi walks away with the honor of being the top graduating senior in both fields, said Janet Decker, senior lecturer in veterinary sciences and microbiology.
"It takes good academic performance, but it really takes being involved in extracurricular activities," said Decker, who is also her adviser. "It's about doing service work through the university or in the community - being an all around outstanding person."
Likewise, Takeuchi said she understands that academic work is not the only way to triumph over failure.
She was a member of the Microbiology and Boxing Clubs, volunteered by helping with the creative process of commercial making with the Smokers' Help Line and was an Ambassador for Agriculture and Life Sciences.
Because her time management skills are so polished, Decker added that Takeuchi continues to amaze both her colleagues and advisers.
"One of the things I said in my letter was that the Ambassadors said they could not believe she could do so much in the laboratory, and the people in the laboratory said they could not believe she had time to do anything with Ambassadors," Decker said.
Takeuchi's roommate of two years and friend of four years, Nicole Petrie, said she has often been motivated to excel after spending time with Takeuchi.
"She's really motivated and really task-oriented," said Petrie, a veterinary science and ecology senior. "She always wants to get stuff done, and she also knows how to have a good time."
"She knows when it's time to put school aside and focus on more important things but is also dedicated to school," she added.
Takeuchi said she will be moving to San Diego to earn her doctorate in macromolecular and cellular structure and chemistry from Scripps Research Institute - one of the top 10 biology schools.
She said she was turned on to the "complexity of different biological systems and the diversity of it - there's so much to do in this area."
Decker said, "We're proud to have someone from the U of A to spread the word to California that we produce some pretty good students even if we are not right on the beach."
Even though Takeuchi said there have been times that she has felt down, she has been able to continue her drive with the help of family and friends.
"I have been so overwhelmed with class work and physically fatigued, but I learned how to take it into perspective and get through it," she said.
Petrie said that despite all of her achievements, Takeuchi provides guidance instead of boasting.
"She's just so down to earth despite the fact that she's a little bit genius - but she's not snobby about that," Petrie said. "She's just an average friend, she doesn't come off as `I'm better than you' or `I'm smarter than you.'"
She added that Takeuchi is "really caring, and she has fun beyond school, and she knows what's really important."
RYAN WEISSMUELLER
Finance
Finishing with a 4.0 cumulative grade point average was no easy feat, but graduating University of Arizona finance and accounting senior Ryan Weissmueller managed it, hands down.
"He told me back then that his goal was to graduate with a 4.0," said Charles Weidman, atmospheric science lecturer.
"If I had to guess, that was his main goal - the high grade point average, and maybe he gave the same weight to learning the material," he added.
That was Weissmueller's sophomore year - two years ago.
He was a member of the Financial Management Association for two years - and was the 1999-2000 president - where he helped build a stronger substructure of members for the organization.
"It was in shambles when we got there, but we made a lot of changes, since our mission is to bridge the gap between the business and academia," Weissmueller said.
He added that he and his committee worked to bring in distinguished speakers and also coordinated fairs and other career services.
An avid sports fanatic and literature buff, he also supported the Accounting Club and volunteered with organizations like the Ronald McDonald House and the Humane Society.
"My impression is that he is highly professional, which is what I like about him," said Arvind Singh, adjunct finance lecturer.
"One actually notices students who contribute in an intelligent manner," Singh said. "Many students just chat - there's smart participation, and there's dumb participation."
Singh added that Weissmueller is "highly organized" and a "very good role model" to his colleagues and fellow students.
But even with all of the praise, Weissmueller didn't see the honor of being the top graduating finance senior in the wings.
"I was kind of bewildered - it wasn't something I expected," Weissmueller said about the honor. "I am not the smartest guy, but I work as hard as anybody else."
He said his balancing act between research, independent study and tutoring have all been contributing factors to his success.
"I've always prided myself as a time man, and the stuff I've worked with has been flexible," he added.
Former UA finance and accounting senior Mike Rudinsky - who has known him for three years - said Weissmueller has all the characteristics needed to enter the dynamic field of accounting.
"There's inherent frustrations when you start any job, but he will be exposed to more information than he'll know what to do with," Rudinsky said.
"He's been challenged academically and socially in school, but I think that he will be challenged in a different way," he added.
Rudinsky also said that despite a difficult work environment, Weissmueller will fit in, take hold and make accomplishments, just as he always has.
"It comes back to organization and focus," he said. "He's already proven he can manage his time and allocate resources, so I think he's ready for it."
Although Weissmueller was voted top graduating senior in the finance department, he said he will work in Phoenix on the Assurance and Business Advisory team.
"I am anxious more than nervous," Weissmueller said. "I plan to get an MBA in the future, but right now, I am committed to just try and learn as much as I can and see where it takes me."