Gottfredson says UA has attained balance upon departure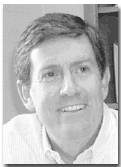 Arizona Daily Wildcat
Arizona Summer Wildcat
Legislative support of UC-Irvine one of many
As he prepares to leave the UA, Michael Gottfredson said he thinks that the university has reached a balance with just a few kinks remaining to be worked out, mainly a lack of funding from the state Legislature.
"(The University of Arizona's) going to be a terrific place," Gottfredson said. "I have great affection for the University of Arizona."
After 15 years of work a the UA, beginning as a professor of criminology in 1985, he moved up to become head of the management and policy department.
The past six years Gottfredson has spent in central management at the UA - with a period as interim provost - finishing out as vice president for undergraduate affairs.
While Gottfredson has said there are only a few universities that could take him from the UA, the University of California at Irvine, was one.
He will take over the position of Executive Vice Chancellor there on July 17.
"It's a good building opportunity out there," Gottfredson said. "UC is a first rate university system."
One difference between the Arizona university system and that of California is support from the legislature. UC schools have it and Arizona schools are experiencing the brain drain - a loss of instructors due to a universities inability to provide competitive wages - and other difficulties due to a lack of funding, Gottfredson said.
The Arizona Board of Regents and the Arizona Legislature have been fighting over funding for years and the new biennium budgeting - a fixed budget written every other year - has given the legislature time to propose bills that would micromanage the state universities.
That lack of support for the state universities in Arizona is one of the reasons that Gottfredson finds UC-Irvine so appealing.
"The (California) Legislature is highly supportive of public education," he said. "It has a very attractive future."
Showing increases in enrollment and as a result and increase and funding, UA spokeswoman Sharon Kha said Gottfredson has a unique chance to make a difference in California.
"He's got a once in a lifetime opportunity to shape the future of what's undoubtedly going to be a great university," Kha said
Over Gottfredson's time as an administrator, he has worked to build the reputation of the undergraduate education at the UA, Kha said.
"There was persistent complaint that the U of A didn't take undergraduate education seriously," she said. "He had a really strong vision for undergraduate education."
The restructure of the general education course work, an increase in class availability and the current construction of the Integrated Learning Center are some of the accomplishments that Gottfredson achieved during his time at the UA.
"He actually thought of a building that would change people's attitudes," Kha said.
The ILC's purpose is to increase freshman retention rates, when the highest number of students drop out, Kha said.
Through the creation of a two tier system for general education requirements, the UA made it easier for students to graduate on time or in less time if they change their majors.
With a universal set of general course work, transfer students and students who change their majors will not be required to take classes that don't pertain to their majors once the general education requirements are fulfilled.
"Practical things like that is what he'll be remembered for," Kha said.
Gottfredson expects to leave the UA the second week of July and said he's exited to take on this new challenge at a new university.
"It's my last opportunity to really learn to surf," he said.
Ryan Gabrielson can be reached at city@wildcat.arizona.edu