ASUA PULSE program to increase student representation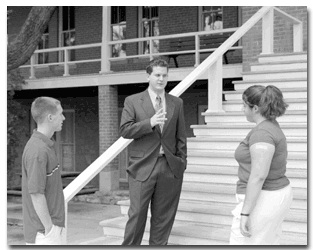 Arizona Daily Wildcat
Photo by: MIKE LARSON ASUA President Ben Graff talks to incoming freshmen, Mark DiGianfilippo and Zovig Boyajian, about his new Pulse program, in front of Old Main. Graff aims to interact with students on an individual basis through this program.
Arizona Summer Wildcat
Penn State program is model, will create new presidential
Through a mixture of interviews, surveys and discussion meetings, Associated Students President Ben Graff plans to create a new cabinet position responsible for student interests and concerns.
The new position will head up the PULSE program - which originated at Penn State - and will have 10 student volunteers from all parts of the campus.
"The team cannot be too large, or it won't be effective," Graff said.
In addition to clubs, dorm organizations, the greek community and activist groups, the team will also interview students on the Mall.
"It will be a major part of student government," said Kelly Dalton, director of the Arizona Students Association and a member of Graff's cabinet. "It should be in every student government."
The PULSE program is expected to have a leader by mid-July and Graff is now taking applications for the position.
Graff has contacted Penn State PULSE team members for advice on how to set up the program for the University of Arizona.
Penn State's Program was initiated in 1995, and since the program started, several hundred surveys have been given to the student body on topics from Greek Life to academic integrity.
Betty Moore, director for Student Affairs Research and Assessment, said the program has had a significant impact on Penn State.
"I think many faculty and staff see the value of hearing from our students," Moore said. "Not only do they want to know what students think or how they might react to potential change, but also how to market information they think is important to students."
Surveys are sent to a random sample of Penn State students and records of the surveys indicate that approximately 65 percent of students respond to the surveys.
The results of the surveys are presented to the student government and are placed on a Web site and are sent out on an e-mail list.
Moore said the budget for Penn State's program is about $100,000 a year - with about $40,000 of that going to operations - and a large percentage of the rest going towards salaries.
The program is continuing based on the support from the users of the information.
The information is used by Penn State's provost, president's office, student government and libraries, Moore said.
"In times of budget pressures, the program would not continue without their interest and support," Moore said.
Graff said the program at the UA would only cost about $2,000 because it would be run by student volunteers rather than through formal surveys.
While the program is designed to get students involved in student government, only 16 percent of Penn State students could name the University Student Government President. Only four percent could name the USG senator who represents them.
While student awareness at Penn State is still low, Moore said the program gets students involved with student government.
"I think the PULSE program has led to increased awareness and understanding of what is done in student affairs," Moore said.
Richard Clark can be reached at city@wildcat.arizona.edu.