The money game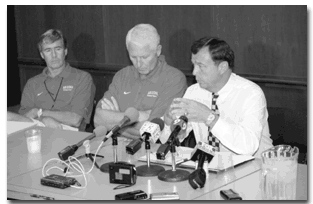 Matt Heistand
Arizona Daily Wildcat
Arizona associate head coach Jim Rosborough (left), head coach Lute Olson (center), and athletic director Jim Livengood talk to the media last week in the McKale Room at the McKale Center last week.
Arizona Summer Wildcat
Officials try to combat rise in rules violations
With the conclusion of a year-long investigation last week, the University of Arizona reported NCAA rules violations involving former basketball star Jason Terry.
Currently a member of the Atlanta Hawks, Terry disclosed that he had accepted benefits from two separate agents - Larry Fox and Ndidi Opia - following his junior season with the Wildcats.
"He received $4,500 in cash, checks and wire transfers from New York agent Larry Fox. He also said he attended a fitness camp in southern Florida, and was never billed for his airfare or camp fees," UA athletic director Jim Livengood said. "Terry also received approximately $7,000 from San Francisco agent Ndidi Opia. He provided Terry legal advice free of charge and helped arrange a catastrophic injury policy, which also constitutes a rules violation."
In accepting the benefits, which totaled more than $10,000, Terry should have been ineligible to compete during his senior season at the UA.
But without the basketball program's or athletic department's knowledge of the violations, Terry was able to participate during his senior campaign in 1998-1999 and earned first team All-American honors.
He was also named Pacific 10 Conference Player of the Year and the National Player of the Year by Sports Illustrated, CBS/Chevrolet and Rawlings/Basketball Times.
"There are going to be a lot of people shocked that Jason Terry would take money from somebody," Livengood said. "They would say, 'Ah, that can't be true,' but as you go through this investigation, as we went through this for over a year, it just shows anything can happen."
The first report of Terry's possible rules violations came in April 1999, following his final season, when Terry's mother, Andrea Cheatam, sent a letter to the National Basketball Players Association suggesting possible wrongdoings by her son.
The letter was also faxed to the UA men's basketball office where associate head coach Jim Rosborough received the fax but failed to report the contents of the letter to Livengood until the NBPA asked for Arizona's assistance in their investigation of the alleged improprieties three days later. Rosborough was given a letter of reprimand from the UA for failing to report immediately the letter to Livengood.
"We run a zero tolerance program here. I expect the student athletes to toe the line, so I could hardly consider my own reprimand to be inappropriate," Rosborough said. "I received the letter in the off-season, but more importantly, I simply did not believe the allegations given my own experience with Jason. But I have a duty to report every allegation promptly, and, in hindsight, I should have told (head) coach (Lute) Olson, Jim Livengood or (compliance director) Bill Morgan about it sooner."
Along with cooperating with the NBPA, the UA launched its own investigation in conjunction with the Pac-10, NCAA and NBPA.
At the conclusion of the year-long investigation, Arizona had ruled the Terry was in fact ineligible and declared all men's basketball games for the 1998-1999 season as "no contest," essentially forfeiting those games.
The Pac-10's Compliance Enforcement Committee, though, found that the UA had no knowledge of Terry's rules violations and let the program's regular season game record stand.
In finding the improprieties though, Arizona decided to forfeit its lone 1999 NCAA tournament game, a 61-60 loss to Oklahoma and return $45,362, nearly half its share of tournament revenues to the NCAA.
The sanctions imposed by UA are consistent with NCAA bylaws, regardless of whether the school had prior knowledge of the rules violations.
"It is a real eye opener," UA senior forward Justin Wessel said. "Ever since day one it gets pounded into your head about the rules and not talking to agents."
Aside from the sanctions imposed on the program, Arizona also ruled that Terry would be ineligible for the university's Bank One Sports Hall of Fame and declared that he would be ineligible to have his jersey number retired -customary for players who have won national player of the year honors.
"We are very disappointed about what Jason did," Olson said. "There is no question as to his feelings about what he's done, not only to himself, but as to the position that he put the basketball program in. To say he feels badly is an understatement."
In an effort to reconcile for his wrong doings, Terry has agreed to reimburse the $45,362 owed to the NCAA by the university.
The athletic department will also step up its efforts to prevent further violations by closing public access to men's basketball practices and conducting a continual review and improvement of its rules-training program with student athletes and staff.
The men's basketball program routinely educates and warns players about dealing with agents throughout the year. Both players and their parents receive notebooks regarding NCAA rules and guidelines about receiving benefits, gifts and other items from agents, alumni and boosters. In addition to the notebooks, Rosborough sends each player three to four letters a month that spell out the agent and gaming issues.
The program also has the FBI and UAPD talk with the players about the gaming and agent issues. Even Trent McCormick of the NBPA talked to the team about the dangers and possible repercussions of dealings with agents while Terry was with the program.
"My initial statement to the NCAA was the same as it is now, I don't think that anyone in the country works harder at this issue than we do," Rosborough said. "There might be some places that work hard, but not harder. We are constantly working with our administration and our players to make sure they are not going to be caught in situations like this. Some of it gets very repetitive, but that is the kind of thing that you just have to do over and over."
Morgan also outlines the NCAA compliance rules to the players, while the coaching staff looks for precautionary changes in players like changes in lifestyle, new cars and clothing throughout the year.
"No one can assure that this is not going to happen. You can't be with the players 24 hours a day. That's why we are so selective of the people that we bring in here," Olson said. "We look for changes in their lifestyles; their cars have to be registered with Bill Morgan. There was absolutely no change in his (Terry's) lifestyle."
The agent problem
Cases like Terry's have become commonplace within the NCAA during the past few years, as players under financial strain succumb to the pressures of receiving easy money from agents.
Former high profile collegiate basketball players like Chris Porter of Auburn, JaRon Rush of UCLA, Corey Maggette of Duke and Terry have all recently been involved in investigations surrounding agents and accepting money illegally.
"I've said for a long time that the biggest problem facing college basketball is agents," Olson said. "They have runners (assistants) all over the place, and there is no way to keep track of all of them. You can't believe all of the problems out there with them."
Agents often employ runners to enroll at schools to try to persuade athletes to sign with certain agents once the student-athlete takes his or her talents to the professional level.
"I think it is a big problem that gets worse every year," Wessel said.
One of the main problems is that the NCAA has no jurisdiction to punish agents who have been found to have illegal dealings with players.
The only punishment for agents comes in states where there is legislation that prohibits agents from making illegal contact with collegiate athletes.
To help combat the problem, universities and the NCAA have been working with legislators to strengthen and pass new laws regulating agents.
Without fear of punishment, agents are free to take advantage of student-athletes who feel financial pressure.
"They care nothing about the rules of the NCAA, all they care about is getting a cut of a signing bonus and contract," Pac-10 commissioner Thomas Hansen said. "The agents are a terrible, terrible problem."
Even worse for the NCAA is that agents are making contact with athletes before they enter the collegiate ranks. Agents and their runners now scour the country searching for the top high school athletes in hopes of establishing a relationship that will provide financial rewards if the athlete reaches the professional level.
"It has been a struggle, really the last 10 years. The money has gotten bigger, it's just a real big mess," Rosborough said. "There are runners all over, there are kids on campus the agents have sent just to go to school to befriend college guys that have potential. This is the single biggest problem we face."
Is there a solution?
The problem with agents is that as long as athletes struggle financially the temptation for easy money will always be there.
"I think the first thing that needs to be done, is to allow these kids who don't have support from home like a lot of kids do, allow them to go to the bank and let the bank decide whether they can borrow some money, so it is not a case that they have to live at a poverty level through their years in college," Olson said.
Olson's proposal was turned down by the NCAA a few years ago, in what Olson called "a terrible mistake."
The idea would allow banks to make a decision on an athlete's potential earning power, just like regular students who would apply for loans. The banks would then make a logical decision on whether or not a player could receive money to be used to help finance living expenses.
The proposal has received new life lately, and will be discussed by an NCAA subcommittee on amateurism and agents.
Hansen, who is a member of the sub-committee said Olson's proposal "is a great idea," and will surely be discussed as a way to curb the infiltration of agents into college athletics.
Others, like Livengood, want legislators with the help of the NCAA and universities to make the laws tougher on agents.
Going through state government is still a daunting task as legislators must deal with a variety of public issues and concerns, which many times puts agent laws on the lower list of priorities.
"The only thing that can be done is to put some teeth into the agent laws, and I think in Arizona that will help. And the other thing it's got to be is an educational process," Livengood said.