UA College of Law ranks first in nation in publications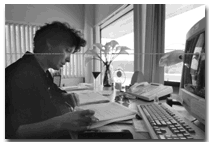 Arizona Daily Wildcat
Dean of the College of Law Toni Massaro works out of her office Wednesday. The College of Law is nationally ranked but is currently facing financial difficulties.
Arizona Summer Wildcat
College needs additional funding to compete in the long run,
The UA's James E. Rogers College of Law is ranked first in the nation in law book publications, but college officials say that without better financial opportunities, it could lose its competitive edge.
Although the annual U.S. News and World Report ranks UA's law school 19th in overall academic distinction in the United States, a new model will take a different approach to ranking educational institutions.
"We have been treated reasonably well on ranking, but the way it is done is it's relying heavily on reputation, past reputation and image," said Toni Massaro, dean of the College of Law.
Brian Leiter, professor of philosophy and director of University of Texas law and philosophy program, recently published his own study that measures educational institutions according to "per capita rates of citation, per capita productivity of books and articles, and subjective reputation among academics."
Leiter's report, published in the University of Chicago's Journal of Legal Studies, cites UA law faculty, along with 11 other law schools around the country, as, "doing everything the faculty of a leading academic law school should be doing: they are highly productive, and what they produce has a significant impact upon scholarly debate."
The UA law faculty is small compared to other institutions, but it is just as active in publishing and forcing ideas to the forefront.
"The school should never lose sight of what is going on in the society and around that. The research of the law school should reflect both contemporary problems encountered in the making of law and in the application of law in society," said Boris Kozolchyk, professor of law and the president and director of the national law center for Inter-America Free Trade.
Massaro said she thinks the law school's accomplishments are remarkable, considering there are only 29 professors in the college.
"We have a very strong teaching faculty, full courses, no reduce load and year after year the students are very pleased with our faculty teaching," she said.
Most law professors teach four courses, which is higher than the national average for the good schools. Professors also engage in research and community work.
Massaro said the students ought to care about this for two reasons. One is that the students assume UA is a state school and state funded, but it heavily relies on private funds, which is not enough. The second reason is that a scholar needs time and money to complete studies.
"The rest of the state will really pay attention to the fact that we are going to lose this if we don't have better financial opportunities. They have no idea how hard the professors are working, the community sometimes doesn't know," she said.
With the use of digital technology and global changes in the last five years, a new structure needs to be built.
"It used to be a person standing in front of a class and talking. Now, we need clinics, technology and computers," she added.
The geographic location of the college is one other factor that adds to the academic success and students educational pursuits, Massaro said.
All while allowing different perspectives and intellectual groups, Arizona also allows different types of scholarships.
"Arizona struck me, when I was interviewed here, as a place that will be willing to take risks, and a lot of schools don't."