The New Provost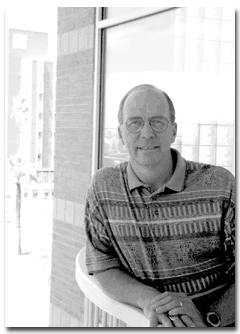 Randy Metcalf
Arizona Daily Wildcat
Provost George Davis stands on the Henry Koffler building over looking the University of Arizona Mall and the Administration building a little more than a week after taking over the position.
Arizona Summer Wildcat
George Davis, former regents professor of geosciences, is
It is a time of cautious prosperity for the UA and perhaps the perfect time for George Davis to take over as Provost and vice president for undergraduate education.
Awaiting the decision of Arizona voters in November, more money may be coming and the University of Arizona's gift campaign is starting to roll - already bringing in $75 million a year.
With increased funding from the state as the light at the end of a not too long tunnel, growth may be a realistic endeavor.
So now it's Davis' time to focus on class size, availability, faculty salaries, the cannibalization of departments, freshman retention, this thing called learner centered education and how to organize his office on the fifth floor of the Administration building, recently vacated by Paul Sypherd.
He has to do all this with a clear goal in mind - "grow in numbers and yet preserve quality."
Pictures from Davis' trips - partaking in geological studies - to Norway, Bolivia and Utah lay on his conference table as the remnants of Sypherd's reign are still being removed.
"These are really big shoes, I'm really glad to have begun," Davis said.
Davis began his administrative career with the UA in 1982 as the department chair of geosciences. By 1986 he was vice provost for academic affairs and held that position for three years. He was an executive on the Arizona Board of Regents in 1990, before becoming president of the University of Vermont, in Burlington.
"He has phenomenal experience," said Eugene Sander, dean of the College of Agriculture. "Such a wealth of experience, he's a unique hire."
Having just finished a two week period working with Sypherd - who is returning to teaching - and his team, Davis said he is ready to begin his work, with retaining faculty at the top of a long list of duties.
"One way or the other we must strengthen compensation for our faculty," said UA President Peter Likins. "(Davis) is leading the charge (for increased faculty salaries)."
Some members of the UA's faculty are being offered twice their current salaries to teach and perform research at other institutions, Sander said.
"The normal amenities of 'Hey we love you and we want to have you' just doesn't cut it," he said.
With the lack of funding historically received from the state Legislature - which also limits pay increases with state money to 2 percent annually - the UA has fallen behind other educational institutions.
"All ranks of (UA's) faculty are well below the national average for our peers," said Jerrold Hogle, faculty chair and English professor.
Money seems to be the only solution to retain faculty and the Arizona Board of Regents has begun talking with the Associated Students of Arizona and may begin to lobby the Legislature more intensely and perhaps work to place more education friendly politicians in legislative positions.
While understanding and having to work under the UA's budgetary crunch, Davis said he won't participate in any political activities.
As the UA continues to lose faculty members, classes, departments and entire schools become threatened in order to slow the drain.
In the early 90s several departments at the UA were considered for termination to open up space in the budget. Though the UA did not end up killing any programs, other institutions have gone that route.
"Universities who have gone down that road haven't been able to accomplish (saving funds)," Davis said. "It's not worth the losses.
"(Programs chosen to be cut) will battle hard to resist annihilation."
The cannibalization of courses and teaching positions takes place when a professor is lost to the brain drain, and the position that was held is then eliminated to keep another professor who may leave. The needs of one section of a department destroy another.
"It's happening to an extreme degree in the business program," Davis said. "That trend will continue unless we find an infusion of money."
Though there are major difficulties in keeping faculty salaries competitive, Gov. Jane Hull's Arizona 2000 sales tax initiative for education could be a reason for optimism.
"The success last week of the sales tax is a tremendous ray of hope," Davis said.
People from all walks of the university participated in rallies and spoke out in favor of the sales tax initiative, including Hogle.
"It's one element of a solution," Hogle said. "I'm encouraged despite the money problems."
While the Arizona Foundation prepares to announce its national fundraising effort in October, Davis acknowledged that "we're a public university not steeped in tradition of receiving private money."
Besides financial concerns, Davis - being a researcher himself - said undergraduate students don't understand the importance of the research.
"There's much less emphasis in research," he said.
As a research university, Davis said he thinks the undergraduate student body should be working with the discoveries being made at the UA.
One way that this can be accomplished is through the much talked about learner-centered education.
"They're talking about ways of delivering concepts and knowledge," Davis said. "Independent study, active learning by doing."
"Inventive, but not radical," he added.
Vermont and student protests
The position of provost is the highest that Davis has held since the president's position at the University of Vermont, which he occupied for one year.
A student takeover of the president's office and other protests made it an interesting year for him.
"Not knowing the political environment was a disadvantage," he said.
Davis came in on the heels of "beloved" former UVM president Lattie Coor - now president of Arizona State University. He also came in during a time of social unrest on the UVM campus, said Tom Gustafson, vice president for UVM relations. Gustafson was on the search committee that brought Davis to Vermont.
"He came into a very tough situation," Gustafson said. "None of it was George's fault."
The dynamic of the UVM university in the early 90s involved some race relations and a budget crunch.
"I encountered two massive issues, diversity and racism and a critical need for dealing with a poor resource base," Davis said.
Davis realized he wasn't going to be able to correct the situation, and the UA had offered him a position - where he has now spent 27 of his 30 year career.
"The University of Arizona is more his cup of tea," Gustafson said.
Where to go from here
Taking control of the undergraduate program at the UA at the beginning of a new century can seem like a daunting task with a massive to-do list.
There are classrooms to fill, salaries to pay and possibly an era to begin, with the help of Arizona's voters.
If those funds are received, "the U of A will increase what it is presently doing," Davis said.
Besides cosmetic - with the addition of the Integrated Learning Center and a new Student Union - there aren't any drastic changes planned for the university.
"In general, I think the University of Arizona is on the right course," Likins said.
By bringing in and maintaining a quality group of ranked faculty, connecting them with courses that engage the student and placing them in adequate classrooms, Davis said he thinks growth and prosperity are possible even under the shadow of a Legislature that hasn't shown the universities financial support.
"I'm not suggesting that we should be overly optimistic," Davis said. "But it is very promising."