Search for UAPD chief narrowed to 2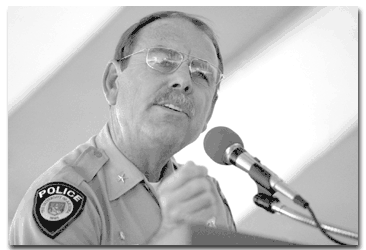 Wildcat File Photo
Arizona Daily Wildcat
Former University of Arizona Police Chief Harry Hueston speaks at the dedication of the new UAPD headquarters in May. Hueston stepped down May 15 and the search for a replacement has been narrowed to two.
Arizona Summer Wildcat
Search committee spent months wading through hundreds
After receiving 210 applications for the job of the University of Arizona Police Department chief, the search committee has narrowed the applicant pool down to two candidates.
The committee is eager to have a new chief on station prior to the commencement of the fall semester, and the announcement of the new chief is scheduled for early next week.
"We have not made the selection yet, we are down to two final candidates," said Julius Parker, associate vice president of business affairs and administrative services. "Before a decision is made, a written offer must be advanced and an acceptance received and then negotiations are finalized at that point."
The search for a new chief began shortly after Harry Hueston, former UAPD chief, announced his resignation in November. After spending 15 years with the UAPD, Hueston left to take a job teaching at Texas A & M.
Since Hueston's last day on May 15, the UAPD has been under the direction of Kevin Haywood, the acting commander, and the absence of a chief has had little impact on the department.
"The department is used to functioning without the big boss, the impact of not having a chief is minuscule," Parker said.
Members of the search committee have a great deal of confidence in what their search has produced. Since the search was held nationally, the committee was able to choose from a wide range of experience and backgrounds and other universities.
"The search committee went through hours of reading, deliberating and interviewing," said Joel Valdez, senior vice president of business affairs.
The search committee also included students, staff, faculty and community members in the search process by holding open forums with the candidates.
"I would hope that the candidate that is selected will bring the necessary leadership skills and experience that will move the UAPD to the next level of excellence," Parker said. "We do not want someone who wants to come to Arizona to retire."