A student's bar guide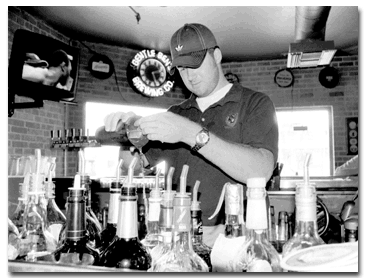 Sarah Brown
Arizona Daily Wildcat
Gentle Ben's bartender Kurt Lutz pours a drink for a happy hour patron Monday afternoon. Gentle Ben's Brewing Company, located on East University Boulevard, is a popular destination for both the hungry and the social student.
Arizona Summer Wildcat
Open hours, theme nights, cover charges and drink specials are subject to change for each bar - call for more information.
XS
536 N. Fourth Ave.
903-0999
Opened this summer in the old home of Jaime's, XS is a loud, dark dance club in a decidedly Angelino vein - black-clad bouncers and bartenders, an elegant bar area and a strictly enforced dress code (almost a singularity in Tucson) set XS apart somewhat from other Fourth Avenue bars. Though the bar area is basically one long, thin room, a dance floor (music tends towards house and techno) and adjacent nook near the back do their part to alleviate alcohol-induced claustrophobia.
IBT's
616 N. Fourth Ave.
882-3053
Catering to a primarily gay crowd, IBT's (It's 'Bout Time's) has reigned supreme as Tucson's finest gay bar for nearly 20 years. An active dance floor, large patio and a (sometimes aggressively) friendly crowd make for a celebratory evening for the open-minded and some of Tucson's best people-watching for the more introverted. Bigots stay home, but if you're less repressed, dress up and get dancing, sailor!
Guido's
424 N. Fourth Ave.
628-8664
An unpretentious spot tucked midway up North Fourth Avenue, Guido's is home to Tuesday's beer-soaked Penny Pitcher night, now expanded to Thursday nights. Drawing an eclectic crowd - a mix of college students, older Tucson residents and Fourth Avenue locals - Guido's is also home to DJs spinning a commensurably eclectic mix of tunes. Local and national touring bands bring a larger crowd on weekend nights, and frequent beer specials, along with 15-cent wings during happy hour, attract the budget-minded tippler.
Maloney's
213 N. Fourth Ave.
388-9355
Big, crowded and noisy, Maloney's is one of the campus area's most popular watering holes. In a mock library setting, patrons court sensory overload - loud music, clips from movies and television shows (played on the bar's numerous screens) and carefully-dressed, attractive, young people all abound, making this meat market perhaps the archetypal college bar. Thursday nights are particularly active, as the bar approaches capacity in a drinking frenzy unencumbered by cover charges.
O'Malley's
247 N. Fourth Ave.
623-8600
An enormous bar, Maloney's cover-charging (for men only) neighbor sees a very similar crowd. Pool tables, a jukebox and a cavernous second room - a showcase for local bands - establish O'Malley's as the most diversified of the holy greek bar triumvirate (Maloney's and Dirtbag's being the other members). Never quite as crowded as the other two, O'Malley's cultivates a more relaxed, friendly atmosphere - and also brings in patrons for its tasty bar food.
The Shanty
401 E. Ninth St.
623-2664
An elegant, relaxed bar, the Shanty sometimes hosts an older, more upscale clientele than other Fourth Avenue establishments, but still gets plenty of students through its copper front door. Tucson's most beautiful patio - complete with fountains, ivy climbing the perimeter walls and heaters in the winter - make the Shanty a great spot to converse and unwind with a pitcher or three. Pool tables and darts indoors keep things busy during inclement weather, and the bar's well-lit interior can be a welcome break from the cave-like atmospheres of other bars.
The Buffet
538 E. 9th St.
623-6811
Tucson's oldest bar, the Buffet is seedy in the best possible way. Home to one of the most eclectic crowds in the Old Pueblo, the Buffet plays host to college students, entrenched local alcoholics and an assortment of the mentally unstable. Aspiring barflies can arrive at the bar's opening at 6 a.m. to sharpen their skills on the single pool table or fight their way past the bar for a game of shuffleboard. Locally celebrated for being the only bar to serve the delicious Buffalo Sweat shot, the Buffet is a one-fingered salute to decency and clean living, and one of the most enjoyable places to drown your academic sorrows.
Heart-Five
61 E. Congress St.
903-0911
Good dancing, a hiply dressed young crowd and a cool, dark atmosphere (complete with a chill-out room in the back) establish Heart-Five as Tucson's best - and arguably, only - rave club. House, trance and other techno music rocks the crowd, and the bar pours stiff drinks to keep the dancers from seeming too coordinated. The ambient room - through gauzy curtains past the bar - is a nice place to escape the bar crunch drawn by theme nights, especially Wednesday's Erotica night.
Dirtbag's
1800 E. Speedway Blvd.
326-2600
With a location just off fraternity row and T-shirts that optimistically claim "A part of growing up," Dirtbag's is aiming squarely for the college crowd. And they've succeeded. The bar is wildly popular with the greek community and is often packed wall-to-wall from Wednesday night through the weekend. No pool tables, no darts, no shuffleboard - if you're not at Dirtbag's to drink and hook up, you're missing the point. Be sure to wear lots of Abercrombie and Fitch.
Club Congress
311 E. Congress St.
622-8848
This spot on the edge of downtown in the historic Hotel Congress draws a large, faithful crowd of dancers and local hipsters. With a multi-level dance floor and stiff drinks, Club Congress is big and lively. Adding to the commotion are four bars - the lobby, main room, dance floor and the laid back Tap Room, perennially voted home of Tucson's best jukebox. Popular dance nights include Mondays and Thursdays, with 80- and 90-cent well drinks, respectively, until 11 p.m. As a dance club, hotel and venue for local and national touring bands, Congress is a hub of downtown activity.
Grill
100 E. Congress St.
623-7621
Tucson's best late-night dining is found at the 24-hour Grill, a retro-styled diner with a soon-to-open full bar (Grill has always had a small but tasteful beer menu). A long-time local favorite for a cup of coffee and a recovery meal after a night of drinking, Grill serves up tasty entrees with a healthy dose of sass in a unique atmosphere and offers an interesting place to meet and interact with fellow Tucsonans. The prospect of on-site liquor promises to be an interesting, if perhaps volatile, addition to Grill's ambiance. Whatever you do, don't ask for cheese fries.
Double Zero
121 E. Congress
670-9332
A hospitable place to forget whatever you've learned in school, the Double Zero pours beer and liquor in a sleazy-fun atmosphere, perhaps best embodied by the bar's White Trash Wednesdays, with 75-cent cans of Schlitz. The music at the Zero runs toward the punk end of the rock continuum, with frequent touring acts downstairs in the appropriately dank, dark basement. Free pool and the unmistakable Double Zero attitude are the big draws for the faithful locals occupying the barstools, but the bar isn't for everyone.
Frog & Firkin
874 E. University Blvd.
623-7507
Its proximity to campus and warm, friendly atmosphere draw many students to this A-frame bar just west of Park Avenue. However, great English pub food (not a misprint) separates Frog & Firkin from most other bars in the area. Yummy sandwiches, pizza and appetizers complement the extensive beer selection, and a large patio makes Frog & Firkin a popular draw for Tucsonans of all ages. Service can be less than spectacular, but the food and pleasant surroundings keep patrons coming back.
Gentle Ben's Brewing Company
865 E. University Blvd.
624-4177
Across the street from Frog & Firkin, Gentle Ben's is one of Tucson's few brewpubs, serving a variety of liquors and beers in addition to the suds brewed on the premises. During the day, Gentle Ben's is more of a restaurant than a bar, but at night the upstairs patio/bar area transforms into a college bar in the Maloney's vein. A live DJ, a dance floor and tables crowded with people - students and otherwise - create an upbeat, party-type atmosphere (see Maloney's, above, for more information).