CORNERING THE CAFFEINE BUZZ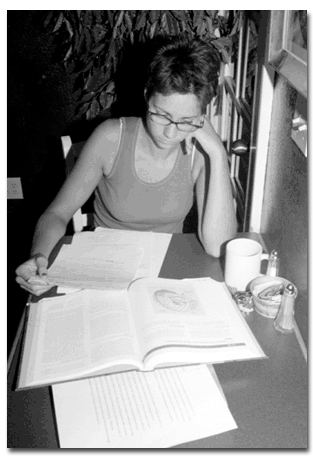 Randy Metcalf
Arizona Daily Wildcat
Server and studio arts senior Nisa Krackow takes a break to study her bio-psychology book at Cafˇ Paraiso on Monday. Cafˇ Paraiso serves a large variety of coffee blends and also a great assortment of lunch menu items.
Arizona Summer Wildcat
A fresh (persons) guide to local coffee...and such
A hot cup of coffee might not sound exactly refreshing, and exams might be the furthest thought from your mind, but a third year senior knows the significance of a good cup of coffee during those late night cram sessions and casual study dates.
You don't want to be seen in one of those corporate houses - you know, the ones where everybody looks the same and drinks skinny ice mochas. You'd rather sit in a place surrounded by character where you might not know the person beside you, but you can rest assured that person knows nothing about Britney Spears' latest single.
With that in mind, here's a rundown of Tucson's choice tastes and scenery, sure to assure any connoisseurs mature coffee amour (or where to get the good stuff).
Cafˇ Paraiso
800 E. University Blvd.
624-1707
In the growing Mecca of corporate retail and coffee shops along East University Boulevard, this delicate oasis houses a diverse selection of strong to medium blends, as well as an excellent lunch menu.
The divided interior is occasionally used for small artistic events such as poetry readings and class getaways. The most notable menu item is excellent quiche, although all lunch items are recommended. On the downside, the cafe is typically highly populated during school hours and closes in the early evening. But, being within walking distance from campus, the location and shady porch make Cafˇ Paraiso great for in between classes.
Bentley's House of Coffee and Tea
1730 E. Speedway Blvd.
795-0338
Continuing to be a popular graduate student hang-out, this cafˇ sports the second best cup of coffee in town. The house coffee is a perky blend of Costa Rica, French and Colombian beans.
Adding to its menu of affordable quality food and drink, is a fine array of weedy vegetarian sides and entrees. Notable menu items include any salad item, iced coffee and fabulous Nutella. The Espresso shake and Ashtray shake (with ground coffee beans) are also especially tasty summer treats, and Bentley's is pleased to announce they are now serving eggs.
Some downsides are extremely high population, limited smoking section (the sidewalk) and close proximity to some of the university's more obnoxious residents. Plus, prospective patrons should be warned that there is a small population of annoying house regulars.
Epic Cafˇ
745 N. Fourth Ave.
624-6844
Not too far from campus, this house serves the uncontested best cup of coffee in town - and it's made from Illy (an Italian Coffee and Espresso Bean Brew).
The menu supports a healthy array of sandwiches, soups and salads, as well as consistently tasty scones and other pastries.
Although spacious, the arrangement is a little boring visually, and smoking is only permitted outside on the sidewalk.
Rainbow Planet Coffee House
606 N. Fourth Ave.
620-1770
For those who prefer to support their local gay and lesbian coffeehouse, Rainbow Planet is conveniently located on North Fourth Avenue, not far from campus. House brews include arrangements of strong, medium and flavor of the day.
Menu items involve an array of breakfast dishes and lunch sandwiches limited for vegetarian audiences. Although restricted by a small indoor seating area, the atmosphere is usually calm and uplifting.
Cup Cafe
308 E 10th St. (Located within Hotel Congress)
798-1618
If regurgitating past fashions and questionable mock philosophy is your thing, put on your best threads, this is the place for you.
The menu is overpriced for its small portions, however the vegetarian selection is generous and the scenery is rich.
The Grill
100 E. Congress St.
623-7621
Grill's Arabaca French Roast is brewed stronger for a dark flavor with low acidity. The only non-corporate 24-hour coffeehouse diner is a popular hangout for late night study groups and after hours meetings, and one of few restaurants to cross over from the realm of coffee and French fries to the domain of cocktails and brews.
Don't be fooled by the rugged style of service, this concept diner is an ideal spot for real people desiring real food.