Wildcat Welcome kicks off year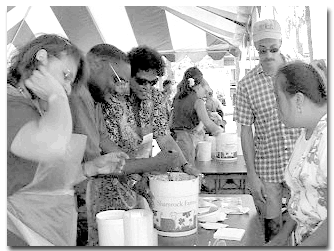 Arizona Daily Wildcat
Arizona Summer Wildcat
Committee tries for 'more laid back' atmosphere in annual
In addition to the annual smorgasbord of free food and entertainment, this year's Wildcat Welcome committee is trying to prepare a more relaxed environment for new and returning students.
"At one point we were thinking about a luau, but now we want it to be more laid back," said Juliette Moore, director of campus recreation and co-chair of the university-wide Wildcat Welcome committee.
The 10-day series of events will be kicked off Wednesday, Aug. 16 with a volleyball game outside the Park Student Union accompanied by the hip-hop and acid-jazz sounds of Tucson band Interlocking Grip.
The program culminates with CatFest on Friday, Aug. 25, presented in part by the Associated Students of the University of Arizona.
"It is a gift to the students from ASUA, a welcome back to students and a welcome for the first time to new students," said Ben Graff, ASUA president.
CatFest will include a free concert and tables for more than 350 clubs to recruit, advertise and distribute information.
"Since I was a freshman (CatFest) was my favorite event," Graff said. "It is a chance for students to find out about (ASUA and clubs) because they are so visible, and students who don't come are missing out on a gift from the student government."
ASUA has not yet secured a band for CatFest yet, but Graff said he is pleased with the possibilities.
"We have a bid in for a band that we are really excited about," he said.
Graff said he did not want to release information about the prospective band to avoid building expectations, but said ASUA is looking for a band that fits a wide variety of tastes and is currently popular.
"We are looking for someone on the radio - definitely not a local band," Graff said. "If students don't know (the band's) name, at least they will know some of the songs they sing."
The Wildcat Welcome committee also has a "Reggae Night" planned to keep with the mellow spirit of the program. Students are invited to the Thursday, Aug. 24 party outside the UA Student Recreation Center Pool, where there will be pool-side refreshments and music by Stuck in a Groove and Warsaw.
"We will have free lemonade and Reggae decorations to fit the mood," Moore said.
Along with the nightly entertainment, UA administrators will be helping dorm residents move in from Aug. 16-18 as part of the Wildcat Welcome.
"(UA President Peter) Likins has really encouraged faculty and staff to get involved, and we've gotten a real good response," Moore said. "Likins helped out a lot last year. Students didn't know his face, but when they found out who he was, you could see them smile a lot."
Official university helpers will be wearing red uniform shirts and name tags to make themselves more visible.
"We don't want students to wonder what's going on when someone comes and picks up one of their boxes," Moore said. "We try to make everyone recognizable."
Another service the university will provide as part of the Wildcat Welcome are shopping trips to the Tucson Mall, 4500 N. Oracle Road, Target, 4040 N. Oracle Road, and Albertson's Grocery Store, 2854 N. Campbell Ave.
Buses to the shopping centers leave every hour, on the hour, from 1 p.m. to 4 p.m. the weekend of Aug. 19-20 from North Tyndall Avenue and East Fifth Street, and at five minutes past the hour at the UA Shuttle Bus Stop near Old Main and Centennial Hall.
The Wildcat Welcome committee has not confirmed which bus service they will charter, but they are looking for one to accommodate all students.
"We want something that's wheelchair accessible, so we're still looking," said Mindy Griffith, senior coordinator for campus activities and committee co-chair.
Moore said the Welcome will cost from $35,000 to $40,000, with several donations from on-campus groups.
"We've received a lot of support financially from university departments," she said. "Dr. Likins has been the biggest contributor for the past three or four years - really since he's been here."
Moore added that next year they will have a head start on fundraising, receiving a $25,000 permanent fund from the university. The Wildcat Welcome committee will raise the extra $10,000 to $15,000 they need to put on the program.
"We're doing OK right now, but we're trying to get more sponsors like McDonald's and Eegee's to donate food. Free food is always good," Moore said. "(Next year) we'll have the time to work on developing the program once we don't have to worry about that (initial $25,000)."