Likins urged to reinstate fired prof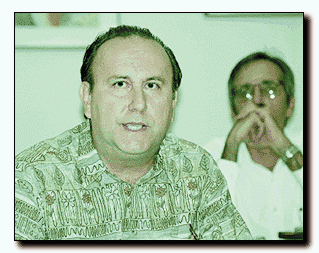 Scott Andrew Taras
Arizona Daily Wildcat
UA law professor Roy Spece voices his opinion yesterday at the Faculty Senate meeting, held at the UA College of Law building. Spece accused UA attorneys of misrepresenting evidence in the case against fired university Alzheimer's researcher Marguerite Kay.
By Erin Mahoney
Arizona Daily Wildcat,
September 14, 1999
UA Faculty Senate members yesterday began their year by arguing for the reinstatement of fired Alzheimer's researcher Marguerite Kay.
Several University of Arizona faculty senators spoke out at the meeting, demanding that UA President Peter Likins return Kay to her tenured position until pending investigations are complete.
"It's time for matters of fact and matters of due process," said John Marchalonis, head of the microbiology and immunology department. "A judge has ruled clearly...why is it so hard to do the right thing?"
In April, Arizona Superior Court Judge Stephen Villarreal issued a summary judgment that said the UA took "arbitrary and capricious" actions in the dismissal of Kay, a former microbiology and immunology Regents professor.
Last month, the Faculty Senate Committee of Eleven unanimously approved a resolution urging Likins to reinstate Kay, prompting senators to speak up about the issue.
Villarreal's final ruling would send Kay's case back to the university, so the termination procedure can be completed in a Conciliation Committee. The Committee of Eleven and a number of faculty members have urged that she be returned to her position pending the process.
UA physics professor Bill Bickel began the dialogue, asking the Senate to consider the facts of Kay's case.
"Nothing will be lost by reinstatement at this time," he said.
But Likins told senators he will not take any action until Villarreal makes a final judgment.
"Until we have a ruling, it's essential that I not discuss the matter at all," Likins said. "For now, I cannot go further with this process."
But Faculty Chairman Jerry Hogle agreed with the senators, saying there is no reason why Kay should not be reinstated while processes are pending.
"I don't think the president's hands are tied," he said. "I think since the process is not finished, the sanction should not be enforced."
UA law professor Roy Spece told senators that Kay's investigation was "rampant with error" and accused UA attorneys of misrepresenting evidence in their inquiries.
"We need to reopen this investigation...and do it right, so we don't all end up losing," he said.
And although Hogle said Spece's speech "should be taken as allegations," Spece told the Senate he would "bet his tenure" that his accusations were true.
"There is serious material here," he said. "I didn't do anything for over a year."
Surgery professor Marlys Witte said she thinks Kay has a number of faculty members supporting the case.
"The faculty is at the point of giving an ultimatum," Witte said. "She (Kay) has to have proper procedure."
Witte also said Spece's allegations concerned her.
"The role of the university attorneys in this process is of great concern to me," she said.
Witte added that she would be willing to join an organization to further discussion on the issue.
"I would join any group in petitioning and speaking to do what's right," she said.
Spece said he will do whatever it takes to get Kay's situation rectified, and he told members of the Senate that he was even willing to hold a sit-in in Likins' office.
"That would be a last resort," Spece said. "I think we can come together. I think we can resolve this within our own system."
Hogle said the Senate's best move would be to wait for the resolution of the Conciliation Committee's investigation.
"We should not rush to judgment," he said. "I think there has been considerable discussion. We should let the conciliatory process do its work."
Kay was terminated by Likins in July 1998 after a Committee of Academic Freedom and Tenure found she had falsified data during her Alzheimer's research.
The Arizona Superior Court has not ruled on whether or not Kay is guilty of scientific misconduct, and the U.S. Office of Research Integrity will determine if any falsification took place.