Utah win spotlights UA students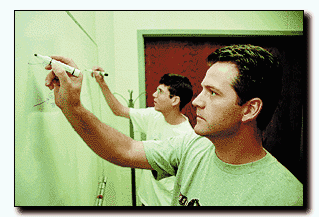 Matt Heistand
Arizona Daily Wildcat
Engineering doctoral student Barry Goeree and mathematics/computer science senior Brian Shucker draw a block diagram in their lab yesterday morning in the Aerospace and Mechanical Engineering building. Goeree and Shucker won the student paper competition at the 13th Annual American Institute of Aeronautics and Astronautics Conference on Small Satellites.
By Dave Paiz
Arizona Daily Wildcat,
September 14, 1999
Two University of Arizona student researchers recently attended a prominent aerospace conference in Utah where they competed against some of the brightest minds in their field.
When it was over, Barry Goeree, a UA mechanical engineering doctoral student, and Brian Shucker, a UA senior majoring in mathematics and computer science, had won the student paper competition at the 13th Annual American Institute of Aeronautics and Astronautics Conference on Small Satellites held Aug. 23 to 26 at Utah State University in Logan, Utah.
"For small satellites this is really the main conference," Goeree said. "It was really tough - all the papers were very close."
Facing stiff competition from institutions like Santa Clara University and Arizona State University, Goeree and Shucker pocketed $7,000 for their paper entitled "Geometric Attitude Control of a Small Satellite for Ground Tracking Maneuvers."
"We were thinking that if we got in the top three, that would be great," Shucker said.
Goeree and Shucker's award-winning paper is a complex set of mathematical "control algorithms" that will direct a small satellite to point at its ground tracking station as it flies overhead.
The pair developed the paper while working on the UA's Student Satellite Project (SSP) in the Department of Aerospace and Mechanical Engineering.
"There's a few things that are nice about our algorithms," Shucker said. "The big thing I would say is that we have a small satellite with 3-axis control."
Pointing a satellite in a given direction may seem easy in theory, but in reality it is somewhat difficult because a satellite must correct for its own rotation as well as the earth's to establish a laser communications link with its tracking station.
"For laser communications, it's very critical that you point accurately at the ground station," said Ernest Fasse, an assistant professor in the AME department, who was Goeree and Shucker's adviser during their research effort.
Fasse, fellow AME professor Wayne Chen and physics professor K.C. Hsieh started the SSP in 1996 with the goal of deploying a student-designed satellite mission from a space shuttle sometime between 1998 and 2003.
"Right now we don't have a launch date, we're hoping for 2002," Shucker said.
Project participants work in teams, each dealing with a different aspect of satellite research and design.
"It's technically very demanding," Fasse said. "The difficulty of the project is much more difficult than what they do in class."
Goeree and Shucker's research grew out of their involvement with the SSP Guidance Navigation and Control (GNC) team over the past year.
"We're responsible for determining the orientation and controlling the orientation of the satellite," Shucker said. "Basically, we make sure it's pointed in the right direction so scientists can do their experiments."
Shucker, who recently took over as the GNC team leader, was introduced to the project in the fall of 1998 when he was a NASA Space Grant intern. He said the SSP currently has "an evolving membership" of about 70 students.
"As people graduate, we recruit new incoming students," Shucker said. "New people have to learn everything all over again, which I guess is part of the point."
Fasse says another strength of the project is its emphasis on group interaction.
"It certainly teaches students about working on a large team, and about interdisciplinary teams as well," Fasse said. "They get to cooperate more with students in other departments."
This view is shared by Goeree and Shucker who both feel the project has given them valuable, "real-world" experience.
"I learned a lot about satellite control," Goeree said. "I think it's just really great to work on something that will fly in space."
Shucker agreed.
"It's nice to have a challenging problem, especially being an undergrad," Shucker said. "Working on a satellite project is more advanced work than you'd be able to do anywhere else."