Local stores struggling in wake of arson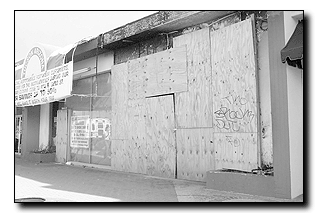 Matt Heistand
Arizona Daily Wildcat
Poppy's Pizzeria located in the Nob Hill Shopping Center on East Speedway Boulevard, was gutted by a fire in July. Since then, surrounding businesses have suffered dramatically.
By Ty Young
Arizona Daily Wildcat,
September 15, 1999
Nearly three months have passed since Poppy's Pizzeria was torched by an arsonist.
Since then, the two neighboring businesses are feeling the repercussions of having to move their operations elsewhere.
Poppy's Pizzeria, 1720 E. Speedway Blvd., was gutted in a fire at 2 a.m. on June 28. The Tucson Police Department has not reported any leads in the ongoing arson investigation.
While some surrounding stores are using temporary sites, the University Postal and Copy Center has no other franchised affiliates to further serve customers.
The copy center, which still uses its original mailing address, is temporarily located in the vacated Bank One building, 1724 E. Speedway Blvd. The family-owned business has been severely affected by the fire.
"I've lost everything," said Natalie Morrissey, owner of University Postal and Copy Center. "We were right in the middle of remodeling."
Morrissey said that the fire cost nearly $60,000 due to smoke damage.
While the store's fire and computer insurance plans have helped Morrissey reclaim much of her business needs, the intangible costs have greatly affected business performance.
"It was all because of the smoke, from the computers, the fax machine, the mailboxes, right down to my desk," she said. "We're working very crudely. It's very stressful."
Postal deliveries, once kept in locked mailboxes, are now distributed in small cardboard boxes.
Fold-up tables line the walls, holding the fax machine, printers and computers which were once kept behind a stationary counter. All computer components are currently run from the only two electrical outlets in the temporary location.
The walls at the new location still show scars of primer and removed paint.
Morrissey also said that many of her long-time customers have found other places to mail their packages. One company lost $10,000 in a shipment that was inside the store during the fire.
"It's understandable. Because we were not open, they (customers) were forced to go elsewhere," she said.
The other merchandise lost in the fire included a large rack of greeting cards, candles and other school supplies.
Morrissey said the store now provides the same school supplies but is still waiting for the arrival of the gift items once sold at the old location.
Despite the dramatic decreases in business, Morrissey is keeping a positive attitude as she works to rebuild her former location.
"When we move back, we will have a brand new store and things should return to normal," Morrissey said.
Both Performance Footwear, 1714 E. Speedway Blvd., and University Postal and Copy Center, 1718 E. Speedway Blvd., have reported large decreases in business while operating out of temporary locations.
"It's been a burden and hardship for us," said Ron Dove, general manager of Performance Footwear. "It's a great location, especially with the students returning for the fall semester."
However, both stores are using temporary methods to continue serving customers in the university area.
The Performance Footwear store at 6970 E. 22nd St. now handles the needs of the devoted customers from the former location.
"A lot of loyal customers have come over to this location," Dove said. "Still, the longer we're out, the more it hurts business."
Dove said he wishes to keep former customers informed and prepared for the store's return to the old location. He offers certain discounts on merchandise, usually between 10 to 15 percent, for customers who have come from the original store.
"We want everybody to know that we're coming back and will have a brand new store," he said. "We'll have the same customer relations and business philosophy."
Both stores plan to return to their former locations in early November or late December.