A broken home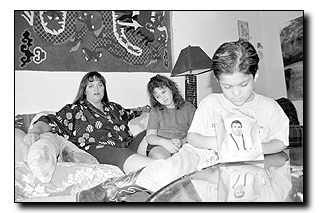 Scott Andrew Taras
Arizona Daily Wildcat
Five-year-old Tariq Tber shows a photograph of his father while his sister Noura and mother Meaghan Tber, a UA education junior, look on. Tariq's father was deported to Morocco in 1994 and Meaghan is supporting a U.S. House of Representative bill that could bring her husband back to the United States.
By Rachael Myer
Arizona Daily Wildcat,
September 15, 1999
UA education junior Meaghan Tber is struggling between working enough hours to qualify for welfare and being home to take care of her seven-year-old daughter - all while attending class.
Tber is not a typical student. At 38 years old, she is struggling through college so someday she can support her family without taxpayers' money.
Meaghan's daughter, Noura, has seizures and was asked to leave her daycare facility two weeks ago for being violent with a teacher.
"I'm desperately searching for an alternative care situation for her," she said.
But her daughter's medical problems are just the latest in a long string of traumatic events. Ten years ago, Tber was part of a two-parent family.
She is hoping a federal bill, the Family Reunification Act of 1999, will help bring her deported husband back from his native Morocco so he can earn money to help support the family.
She also wants her two children to know their father.
"All our trouble will be over," Meaghan said. "We can put our sole concern on our children."
Meaghan's husband, Mostapha Tber, was deported after being convicted in 1988 of three charges relating to possessing, delivering and conspiracy to deliver narcotics in Oregon, said Sgt. Bill Gray, a Portland Police Department detective. Mostapha and Meaghan met as students in Portland.
Mostapha served about four months in jail and was released early for good behavior, Meaghan said. Mostapha later broke his five-year probation term by moving to San Diego in 1990 for a job offer, Meaghan said.
The family moved around until 1994 when Mostapha was forced to leave the country by the U.S Immigration and Naturalization Service.
"I'm a good citizen," Mostapha said in a telephone interview yesterday from Marrakech, Morocco where he works as a chef at a hotel. "I don't deal dope. I've always been a hard worker."
Mostapha said his arrest was set up by undercover police. Meaghan said Mostapha was chosen to "do a favor" because he is Arabic.
Meaghan wishes that she and Mostapha would have remained in Oregon until the end of the probation and they regret their mistakes.
"That's our biggest regret in life," she said.
Mostapha said if he returns to the United States, he, rather than American taxpayers, can support his family.
"They don't need to live on welfare, foodstamps and all that junk," he said.
He wants his family to be together again and for his children to know him rather than watching him on video tapes.
The family tried to reunite in 1995 but was unsuccessful.
Meaghan, Noura and her son Tariq moved to Morocco with three bags - selling almost all of their possessions to pay for the trip.
But Meaghan and Mostapha realized Noura needed better medical facilities after she died twice but was revived during the stay in Africa.
"There's no question about it," Meaghan said. "It was the saddest decision we ever made - but the easiest."
The couple is considering moving to a more medically-advanced country outside of the United States but Mostapha has been denied Visas to all European countries. They are currently looking at Australia as a possible home.
If the Family Reunification Act of 1999 is passed, deported immigrants who served a five-year sentence or less could return to the United States. The bill, which is in response to the Immigration Reform Act of 1996, also allows judges to consider immigrants' ties to the community and how the immigrants have behaved since the completion of their sentences.
Almost 70 U.S. representatives have endorsed the bill since it was introduced in April by Barney Frank, D-Mass.
U.S. Rep. Ed Pastor, D-Ariz., is one of the bill's co-sponsors.
Pastor's press secretary, Maura Saavedra, said Pastor supports the bill because he wants judges to be able to use their discretion to consider individuals' lives in the United States instead of instantly deporting them.
"Under this Immigration Reform Act (of 1996) it was no longer to the judges' discretion - they were automatically deported," Saavedra said.
Frank's press secretary, Peter Kovar, said sometimes immigrants who "were more American than anything" were deported without the chance of fitting back into their homeland society.
Meaghan said she will continue supporting her children and hoping the family can be reunited.
"I need to complete my education in order to make a life for us just in case he can't come home," she said.