Water works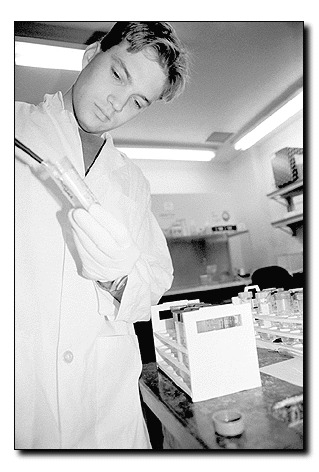 Wildcat File Photo
Arizona Daily Wildcat
Microbiology senior Jim Eliopulos analyzes concentrated water samples from Guatemala Friday afternoon at a biology lab on campus. The water sample was being searched for cyclospora and microsporidia DNA.
Junior scientist Jim Eliopulos hails from Reno, and one way or another, he's going to let you know soon after he meets you.
"After I graduate, I'm going to make sure that the world's water supply is safe," Eliopulos said. "I'll start with Reno, of course. That's the center of the universe."
In case you haven't figured it out just yet, Eliopulos is kind of an odd person. And he's got an odd job to match.
"My job is odd because I work in a lab with Guatemalan water and bacteria," Eliopulos said. "And I also study bugs that could kill me."
Bugs that could kill you?
"Well, bugs that could make me blind," Eliopulos said.
Eliopulos declined to elaborate further about the potentially blinding bugs, citing scientific confidentiality.
Eliopulos works in the lab of Ian Pepper, who is a professor of Soil, Water and Environmental Sciences. Along with one other undergrad student and several grad students, Eliopulos works in the lab 20 hours a week.
He may joke about the abnormality of his occupation, but Eliopulos gets serious when it's time to work. He wears a white coat and goggles when he gets down to business.
The part that Eliopulos loves most about his job is the equipment he gets to use, namely an ultraviolet microscope.
"We put bugs underneath and they glow because we tag them with fluorescent antibodies," Eliopulos said. "And under a UV light, they glow."
But back to the Guatemalan water. Eliopulos said that he and his fellow lab-workers search the fluid for cyclospora and microsporidia, bacteria which he said are hard to identify.
These days, Eliopulos is a master of science. But it wasn't always that way. A scant three years ago, he dreamed of becoming an architect, a la the dad from Brady Bunch.
After his freshman year, he had a change of heart. "I've always liked science," he said.
So Eliopulos adhered to the collegiate tradition of changing majors. He switched to microbiology. But problem was, he had no job.
Luckily, a position in Pepper's lab opened up, and Eliopulos got word of the opening via listserv.
"I just saw the email and took the job," Eliopulos said. "Now I work with water purification. Someday I'll bring my knowledge back to Reno."