Tibetan monks come to Social Sciences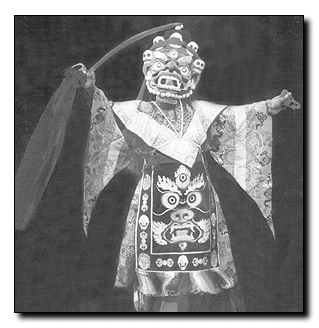 Arizona Daily Wildcat
Photo by Matt Capowski The Drikung Kagyu monks performed "The Mystical Music and Dance of Tibet" on Saturday in the Social Sciences auditorium. The show was part of a sacred dance ceremony to promote world peace.
By Kevin Dicus
Arizona Daily Wildcat,
September 20, 1999
While many attended the football game Saturday night, a near-capacity crowd welcomed the Drikung Kagyu Buddhist monks to Tucson at the UA Social Sciences auditorium.
The show, sponsored by local Tibetan activist organizations, was one leg of an extensive tour billed as "The Mystical Music and Dance of Tibet," which benefits Indian monasteries.
Beginning in Malaysia this December in front of 10,000 people, this show has brought beautiful culture and vibrant religion to millions.
During the Achi Invocation, the first performance, the monks sat in a half circle and began chanting in low, rough tones that vibrated throughout the room. The calming hum was dramatically juxtaposed with a variety of Indian instruments. Cymbals, conch shells (Dungkar), horns similar to trumpets (Dungmar) and other instruments all seemed to play independently from each other, but when the different sounds mixed in the air, they all came together, forming one powerful nearly hypnotic sound.
The Kunrig Deity Sign Language performance was another beautiful work. Kunrig is practiced to eliminate negative karma. To perform it correctly, the monk must not only chant the sacred text, but visualize it and physically read it in the sacred sign language of the deities.
With every movement so important and every syllable so rich with meaning to these monks, it is not just a show they are putting on but a demonstration of their deepest held beliefs, and it creates an energy that cannot be felt in any other stage production.
As wonderful as this experience was, the reasons for it are tragic. Since China's occupation of Tibet in 1949, many Tibetan Buddhists have been forced into exile, including their spiritual leader - the Dalai Lama. The Drikung Kagyu monasteries are slowly recovering from this displacement and destruction, but they still have not fully recovered. They must rely on the rest of the world for their assured continuation.
Organizations such as the Arizona Friends of Tibet, Students for a Free Tibet and the Tucson Drikung Buddhist organization are becoming ubiquitous humanitarian efforts, and tours such as this are effective methods. However, much work is needed before these people can regain their freedom they lost so long ago.