A team in turmoil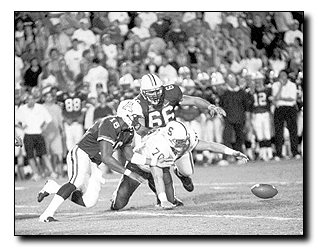 Nicholas Valenzuela
Arizona Daily Wildcat
UA junior quarterback Ortege Jenkins (16) scrambles for a loose ball with Stanford's Sam Benner (70) and UA sophomore left guard Steven Grace (66). Jenkins threw one interception and was chased repeatedly by the Cardinal defense in Arizona's 50-22 loss on Saturday night at Arizona Stadium.
It wasn't pretty. Again.For the second time this season, the Arizona football team was demolished by an opponent. But unlike the 41-7 opening loss to Penn State, this loss came at home to an unranked Stanford team in the Pacific 10 Conference opener.
"It's one thing to get beat at Penn State thousands of miles away," UA head coach Dick Tomey said. "It's another thing to get beat on your home turf like that. You have to credit Stanford. They're hitting on all cylinders right now."
Tomey took responsibility for the defeat.
"Certainly you can't identify any one player," he said. "If you want to identify anybody it's me. As a coach you're responsible for how a team plays.
"In terms of having a team that's growing, that's getting better... we took a giant step backwards in that regard."
The Wildcats (2-2 overall, 0-1 Pac-10) fell behind 30-7 in the first half, managed a slight comeback to cut it to 30-22, until Stanford (2-1, 2-0) roared back and blew Arizona off the field with the final score of 50-22.
"Plain and simple, they came out and they wanted it more than us," UA senior free safety Rafell Jones said. "We couldn't tackle, our defense needs to work on tackling once again."
But tackling wasn't the only problem for the Wildcats. There were several clear areas in which UA failed:
Arizona got no pressure on Stanford senior quarterback Todd Husak (21 for 35, 364 yards, 1 TD), who was never sacked. The Wildcats didn't sack Stanford last year either, but it didn't matter as the Cardinal could only manage 14 points.
The secondary, playing without senior cornerback Leland Gayles (shoulder injury), was burned by Stanford's trio of receivers, Troy Walters (168 yards), Dave Davis (105 yards) and DeRonnie Pitts (78 yards). UA sophomore Anthony Banks, Gayles' replacement, played the best he could, but his inexperience showed against Walters.
"Walters is a good receiver, very talented, but that wasn't what killed us," UA senior strong safety Greg Payne said. "We weren't executing right. We were there on coverage, but we weren't making plays."
The defense couldn't stop the run, especially not in the second half.
"We need to stop the run," UA senior defensive tackle James Lewis said. "We need to execute the run."
Tomey summed up the defensive problems.
"We went a whole game with no sacks," he said. "You can't let somebody who's a good quarterback sit back there with no pressure. We did a poor job of coverage. But the biggest problem on defense is the running game. First down was plus five, plus six, plus seven (yards). They were better than we were on both (offense and defense) that way."
Stanford freshman Kerry Carter had three touchdowns on his 20 carries for 79 yards.
Carter said he was even surprised to be out there on Stanford's first drive of the game.
"Coach (Tyrone Willingham) mentioned to me sometime during the week that I was going to be starting," he said. "I thought that it was going to give me a chance to start faster. I felt more confident that they had confidence in me."
The UA defense, though, was not guilty of Arizona's failure all by itself.
Offensively there were just as many problems:
The offensive line's pass protection was almost non-existent. But as bad as that was, Tomey said most of the fault lay with the quarterbacks.
Senior Keith Smith threw two interceptions, junior Ortege Jenkins threw one. In the last two games, all of Arizona's turnovers have been quarterback-related.
Equally bad with the quarterbacks is their scrambling ability, or lack thereof. Jenkins was sacked on one play for 23 yards. Tomey said both quarterbacks really have to work on not taking sacks.
"We made so many quarterback mistakes," he said. "Not throwing the ball away, running around back there, taking sacks, throwing interceptions. We didn't play well."
Jenkins said he and Smith have a simple goal in practice this week.
"Just getting better every day," Jenkins said. "We've got to get better. We had more turnovers in the first four games, me and Keith, than we've ever had. It's really basic as to what we have to do. It's just move the ball and keep the turnovers down."
Smith agreed with Jenkins' assessment.
"We can't give up so easily," Smith said. "We did a good job early, but then we put ourselves in a hole the first half. Turnovers will kill you.
"We just have to do a good job staying together and fix this. We did some good things on the field today, and we have to focus on that."