Where did it all go wrong?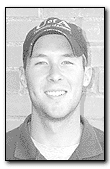 Wildcat File Photo
Arizona Daily Wildcat
Chris Martin
By Chris Martin
Arizona Daily Wildcat, September 20, 1999
Were the preseason pollsters that wrong about the Wildcats football team? A No. 4 preseason ranking? Yeah, right.
This was the team that was supposed to take the UA to its first Rose Bowl in school history and maybe even contend for the national championship.
This is also the same team that got demolished by a very mediocre Stanford squad 50-22 Saturday night. The Wildcats are without a doubt missing the leadership and play-making abilities of last year's departed players more than the pollsters thought.
Where have you gone Chris McAlister?
The secondary looks like Swiss cheese without you. Stanford quarterback Todd Husak picked the Wildcats apart for 364 yards passing.
The UA secondary looked so awful, it should consider giving seminars on the art of arm tackling and making ordinary receivers (e.g. Troy Walters) look like first team All-Americans.
The Wildcats backfield sure wishes Yusuf Scott had not taken his talents to the NFL a year early. Trung Canidate was wrong; he doesn't need 14-inches of daylight to break free for a touchdown, he needs the 14-foot holes Scott cleared for him.
Oh, and feel the pain of poor Ortege Jenkins and Keith Smith, all they get is a measly three-step drop before they must run for their lives as some gargantuan defensive lineman tries to make one of them his game-time snack.
Is there another cheese simile to define the offensive line with? Hmm, how about Limburger, because it just plain stinks.
And whatever happened to Jim Wendler or Eli Wnek taking over for Kelvin Eafon?
True freshman Lance Briggs is doing his best Eafon impression in goal line situations, but to no avail.
Trung Canidate is not the solution either in the red zone, as he has proved that his touchdowns are more of the 70-yard genre.
Did anyone inform the UA coaching staff that tackling practice might be a beneficial drill at Camp Cochise?
Though missing tackles and letting your opponents run right over you will get you on SportsCenter, it sure won't win you any football games.
Apologies here go to Marcus Bell, who would tackle a train if it were in his path.
Also, who is going to inform the coaching staff that you can't win football games if you can't kick field goals.
The FBI has filed a missing persons report on Mark McDonald. It is suspected that he was left in San Diego after the Holiday Bowl victory, because the Mark McDonald playing for this year's team is an impostor.
Coach Tomey should give women's soccer sensation Chrissy Sanford a tryout. She was a great field goal kicker in high school (ask Keith Smith who attended the same school).
And finally, not all the blame can rest on the UA football program's shoulder pads.
How in God's name can more people show up for the Middle Tennessee State game than the Pac-10 opener with Stanford?
Shame on the UA fans, the most pathetic group of football fans in the country.
True, the Wildcats haven't played up to potential this fall, but how disheartening it must be for the football players who run into a stadium for their Pac-10 opener, only to see that it is half-empty?
Football to UA fans seems to be more of a social event. The point of going to the games is to show some school pride and cheer the UA team on to victory.
What is the point of going if you will be leaving at half time? Here's some advice, stay at home, drink some beer and watch the game from there because you're really not a fan anyway.