Soccer falls victim to another ranked team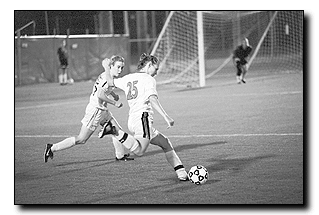 Ian C. Mayer
Arizona Daily Wildcat
Junior forward Chrissy Sanford breaks free to get a shot off against No. 14 Baylor Friday night. Sanford was held scoreless for the second time this season when the Wildcats lost 4-1.
By Chris Martin
Arizona Daily Wildcat, September 20, 1999
The UA women's soccer team let one slip away Friday night, losing to another ranked opponent.
This time, the Wildcats lost to No. 14 Baylor, 4-1.
"I am disappointed; I don't think we were outplayed," junior forward Chrissy Sanford said. "The score definitely doesn't reflect the game."
Sloppy defensive play by the Wildcats (3-3-0 overall, 0-1-0 Pacific 10 Conference) led to many easy scoring opportunities for the Bears.
Baylor got on the board in just the eighth minute as sophomore forward Alyson Miles hit a weak shot that got through the legs of UA sophomore goalkeeper Shannon Monti for the first goal of the game.
Baylor wasn't done there, as they quickly responded 12 minutes later when sophomore midfielder Juli Goin took a nice touch pass from sophomore defender Rachel Kacsmaryk and shot the ball past Monti for the Bears' second goal of the game.
"We just didn't put it away, a disappointing result," UA head coach Lisa Fraser said. "We had a couple of opportunities to finish that we didn't."
To make matters worse, only two minutes after the second Bears goal, sloppy passing between UA defenders allowed for Baylor's junior defender Gina Castellano to step in and intercept the ball and make an easy pass to senior forward Courtney Sauders. Sauders then blasted a beautiful shot past Monti to give the Bears a seemingly insurmountable 3-0 lead by half-time.
During the second half the Wildcats clamped down and played much better as they held Baylor to only one more goal.
That goal came in the 68th minute as Sauders one-timed a pass from Goin past Wildcats junior goalkeeper Inger Airheart for her second goal of the game.
"I thought we didn't do too bad, but of course we could have done better," sophomore midfielder Tiffany Sabado said. "We need to be playing more simple, that's what got us our first goal."
That lone goal came in the 82nd minute as Sabado deflected a ball to sophomore forward Kim McGehee, who beat Bears sophomore goalkeeper Jillian Dreyer for the goal.
"They are extremely disappointed," Fraser said of her team. "If you look at the shots, we were in the game."
Baylor only out-shot UA 16-12 in a game marred by missed opportunities by the Wildcats.
Arizona was unable to put one past Baylor's junior goalkeeper Dawn Greathouse, who played 78 shutout minutes before being pulled to allow backup goalkeeper Dreyer some playing time.
Greathouse made five saves, the same number of saves Monti and Airheart made combined.
The Wildcats look to bounce back Thursday, as they visit El-Paso, Texas, to take on UTEP.