Elam sets career high in romp over Oregon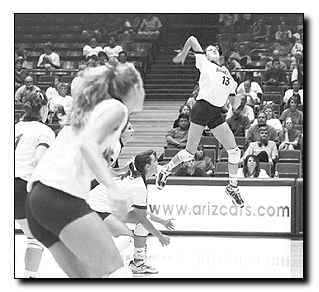 Casey Dexter
Arizona Daily Wildcat
Photo by JOSHUA TRUJILLO Freshman outside hitter Lisa Rutledge goes for a kill in Friday's win over Oregon. The Wildcats improved to 2-0 in the Pacific 10 Conference and 8-2 overall after the three-game sweep over the Ducks.
By Ryan Finley
Arizona Daily Wildcat, September 20, 1999
The UA volleyball team was sick of the drama.
After a nail-biting victory over Oregon State the night before, the Wildcats swept Oregon by the score of 15-8, 15-4 and 15-13 Friday night. The Wildcats (8-2 overall, 2-0 Pacific 10 Conference) defeated the Ducks in a brief one-hour and twenty minutes, the season's quickest match.
"We beat them quickly and we beat them forcefully," UA head coach David Rubio said. "(Senior outside hitter) Raelene Elam really showed her leadership tonight."
Elam set a career-high in kill percentage, posting a game-leading .556. Elam, along with the rest of the team, seemed to avoid a letdown after the emotional win on Thursday.
"Like I was telling my parents this morning, it's hard to come back after the five-game win," Elam said. "But once I got out there and saw the fans, I was energized."
Elam led a Wildcats squad that seemed to be firing on all cylinders, as she and junior middle blocker Marisa DaLee racked in double-digits in kills, as well.
"They all went out there and played well," Rubio said. "Marisa's presence was definitely felt out there tonight. She was awesome."
DaLee seemed to rebound from Thursday's game, when she was sidelined due to mental and physical fatigue.
"Coach sat me down after Thursday's match and told me that I needed to start playing every game like it was a big game," DaLee said. "He said that I tend to not play as well against the easier teams."
DaLee's took Rubio's words to heart as she hit the court Friday night.
"Marisa is an evolutionary process," Rubio said. "What we saw against the Ducks was just another step in her maturation."
DaLee finished the match with ten kills and a .381 kill percentage.
"It's a lot more fun when you're winning," she said. "I just went out there and was showing people how much fun I was having."
The No. 14 Wildcats will travel to Los Angeles for the most pivotal Pac-10 series of the season this coming weekend against the Bruins and Trojans, respectively. UCLA is ranked 10th in the nation, while Southern Calif. is a perennial Pac-10 contender.
"We have to sweep USC and UCLA to be in a position to be nationally noticed," DaLee said. "If Raelene and the rest of the team plays as well as they did tonight, we should have an exciting series on our hands."