Coffee Plantation chain sold, name changing to Diedrich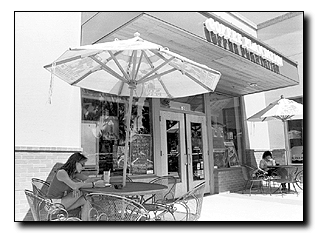 Arizona Daily Wildcat
Photo by AARON FARNSWORTH Retailing and consumer sciences senior Kathleen Pappas studies in front of the Coffee Plantation on East University Boulevard Friday afternoon. Starting today, Coffee Plantation is now called Diedrich Coffee Plantation.
From staff and wire reports
Arizona Daily Wildcat,
September 21, 1999
From staff and wire reports
UA students who frequent the campus-area Coffee Plantation will have to endure an identity change at their favorite caffeine purveyor.
In a $35 million deal finalized last week, Coffee Plantation was bought out by Diedrich's Coffee Inc. - based out of Irvine, Calif. - forcing the Arizona-based chain to become "Diedrich Coffee Plantation."
"Coffee Plant," a slang name for the restaurant which was applied by its regulars, will also have to be dropped. Once customers get used to the switch, Diedrich Coffee will become the chain's formal name.
The decision has left University of Arizona students wondering what they will re-name the popular campus hang-out.
"You always said, 'Let's meet at Coffee Plant.' Now what?" said Lilach Shafir, a communication freshman.
Born on Tempe's famed Mill Avenue in 1998, Coffee Plantation grew to include 14 Arizona locations and six more out of state.
But Coffee Plantation hasn't been owned by its founders since 1993, when it was sold to two out-of-state corporations.
Until last week, the name at all chain locations was kept intact, including the UA-area Coffee Plantation, 845 E. University Blvd.
Employees at the campus-area store said they thought the new name will not affect business or cause confusion.
"People know about us already," said marketing sophomore Abigail Issacson, a Coffee Plantation employee. "Our slogan is 'Where the world meets,' so everyone knows where to go."