Student wins Atlantic Monthly contest in fiction writing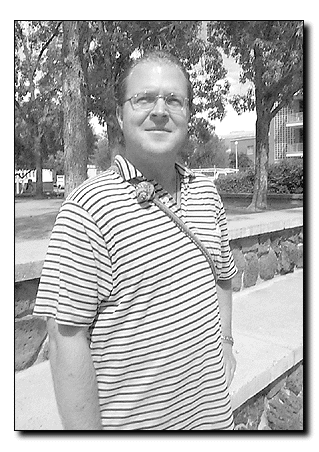 Kristy Mangos
Arizona Daily Wildcat
Second-year creative writing student Chris White poses yesterday outside of the Modern Languages building. White recently won first prize in the 1999 Atlantic Monthly Fiction Contest.
By Graig Uhlin
Arizona Daily Wildcat,
September 21, 1999
As a member of the Peace Corps, Chris White taught the basic points of the English language to a group of indigenous students in Thailand.
Now, he sits in the less exotic brick-walled buildings of the University of Arizona, learning the finer points of that same language in the graduate creative writing program, bringing with him all those images and experiences he has gathered from his time in Thailand.
One of those experiences was utilized as the basis for a story entitled "The Falang" (falang is the Thai word for foreigner) that won first place in this year's prestigious Atlantic Monthly Fiction Contest.
The news of White's first prize win was "really surprising and euphoric," especially for a writer who has not been published before and considers filmmaking another desirable outlet for his artistic expression, only more expensive.
"The Falang" concerns a 15-year-old Thai girl who, as a result of a crush on her American teacher, ends up working with her cousin in a sex resort. The plot originates from a true experience in White's life, only the events have been magnified to see what would happen "if the worst results occurred."
Many of White's stories are rooted in his own life, dealing with a "particular situation from my past that I want to explore in a fictional way."
Whatever the medium, it is no surprise that Chris White has grown up to be an artist. Raised in Vermont, his mother, an English teacher, always encouraged him to become an artist of some form.
White eventually got direction from a junior high language arts teacher who helped develop his fledgling literary career "with a great system of workshopping." Later, moving on to the University of Colorado, White earned a bachelor's degree in literature before coming to the University of Arizona.
Every writer has a signature process of writing and White is no exception. He writes in "manic bursts" when he is so "wrapped up in the story that it needs to be finished."
Generally writing three pages in the morning on his computer in order to ease anxiety, White plays CDs by bands Galaxy 500 and Luna. To cure writer's block, White does some activity where he can be alone and just "think for a long time."
The writer whom White most emulates, "the pinnacle to which I aspire," is Michael Ondaatje, author of "The English Patient." White describes Ondaatje's writing style as "very lyrical and oftentimes dreamlike." Otherwise, White is reluctant to align his writing with that of another writer. What he does say is that his fiction is largely character driven, surrounding a particular issue or theme that intrigues him. His stories are almost always set in contemporary times, often concerning the lives of young female characters.
So what lies ahead for this writer who teaches sailing in Cape Cod during the summer?
White would like to continue writing short stories, hopefully get them published and then move on to write novels and screenplays. He hopes to obtain a fellowship after he graduates, which will let him concentrate solely on his writing, not to be distracted by some part-time job.
Perhaps, White says, he will go back to Thailand, where we can be sure he will live through some experience, write a story about it and win another contest.