Some Hispanic TV watchers avoiding major networks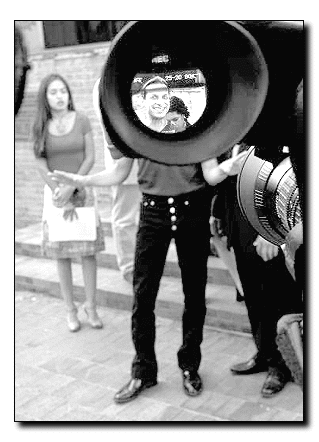 Associated Press
Arizona Daily Wildcat
Actor Jesse Borrego, seen through a news photographer's TV camera, speaks during a news conference at the Mexican-American Unity Council in San Antonio, Tex. Borrego and others discussed plans for a "Brown Out" boycott of major networks this week.
By The Associated Press
Arizona Daily Wildcat,
September 21, 1999
Associated Press
LOS ANGELES - Viewers taking part in this week's Hispanic boycott of major broadcast networks, dubbed a "brownout," are protesting the new season's lack of minority characters.
That means they'll miss tonight's premiere of "Will & Grace'' on NBC, for which they might be grateful.
Tart-tongued character Karen Walker (Megan Mullally) notices that her Salvadoran maid has paused for a conversation, to which she responds: ''Hey, you're on the clock, tamale. Get to work."
''Oh, no,'' Federico Subervi, a University of Texas media professor, said after hearing the sitcom exchange. ''It's an ethnic slur. ... I don't know what it is with these scriptwriters. What's in their heads?
''The writers and the network executives, the ones who have the final word, they don't get it. They really do not get it,'' Subervi said. ''When Latinos and others are saying increase our numbers, it does not mean increase our stereotypical representations.''
The verbal sparring between Rosario Salazar and her boss on ''Will & Grace'' isn't a fair fight, a case of tit for tat. Rosario responds to Karen's very personal barb with a weak ''Listen, lady, I'll squash you like a wormy apple.''
Asked about the use of the word ''tamale,'' which was included in a preview tape of the episode distributed by NBC, series executive producer David Kohan said a longer version of the scene called Karen to task for her ignorance. It was edited for time.
Although no offense was intended, he was not minimizing anyone's objections to the scene, Kohan said.
Rosario and Karen have a prickly but caring relationship, one that is ''much more evenhanded'' than tonight's episode indicates and which will be demonstrated in the future, he added.
A more thoughtful approach clearly is needed, said Lisa Navarrete of the National Council of La Raza, the group coordinating the two-week boycott of ABC, CBS, Fox and NBC that continues through Saturday.
She said the sophomore series about the friendship between homosexual Will (Eric McCormack) and heterosexual Grace (Debra Messing) takes care to include a range of gay characters and is otherwise smartly written.
''It's unfortunate that a show that has done quite a bit to break stereotypes about gays would resort to such cheap shots at the Latino community,'' she said. ''It seems as if it's a pretty lazy thing for them to do when they are meeting a high standard in other areas.''