UA students share experiences of intercultural dating at panel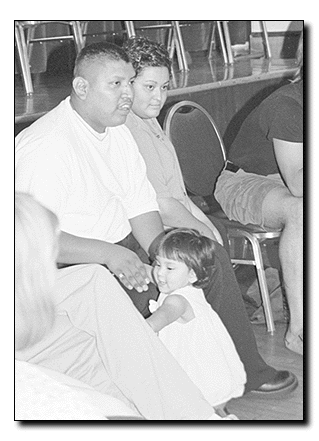 Randy Metcalf
Arizona Daily Wildcat
Mario and Sherry Henry attend the intercultural dating fair with their 14-month-old girl Aliz­, yesterday in the Memorial Student Union's Senior Ballroom. The fair was held to inform people about the highs and lows of diverse dating.
By Rachael Myer
Arizona Daily Wildcat,
September 22, 1999
UA family studies senior Keya Rohovit doesn't mind that her boyfriend is Indian and that she is a self-proclaimed "mutt."
Rohovit has being dating Sonny Suchdev, a University of Arizona sociology and Latin American studies junior, for about eight months.
So far, the couple has experienced only one incident of prejudice - when Rohovit's grandmother assumed Suchdev would be overly protective simply because he is Indian.
But the couple is also from different religious backgrounds.
Rohovit was raised Mormon and Suchdev is Sikh, a religious sect of Hinduism.
"I think spiritually, we are on the same level," Rohovit said.
Despite their differences, Rohovit and Suchdev said last night they want to remain together.
The University Activities Board held a mock talk show last night where couples of different cultures discussed their experiences.
"Walls were put down and people shared and that's what I really wanted," said Mona Elleithee, the Eye on Diversity director. The UAB committee coordinated the event to educate UA students about racism and accepting other cultures.
Students involved in intercultural relationships were invited to speak to the crowd of about 45 people.
Joe Abeita, a health education sophomore, said his family doesn't mind dating a woman who grew up on the Navajo reservation even though he is a part of the Santa Domingo Indian tribe.
Abeita's girlfriend, Leola Tsinnajinnie, a sociology senior, advised students to respect their partners' backgrounds and to always communicate.
"Talk about everything, no matter how minor it seems," Tsinnajinnie said.
Mario Henry, part of the Tohono O'Odham tribe, used his 14- month-old daughter to explain why he hasn't missed out on anything by marrying Sherry, who is Hispanic.
"Look at her," he said, pointing to their daughter Aliz­. "She's beautiful."
After the panelists discussed their experiences, they joined the audience to form a circle and share their responses about the event.
"I just thought the relationships up there seem to be more healthy than the ones of my peers," said Mark Jenkins, a mathematics and economics junior. Jenkins said he wondered if the reason was because the couples' cultural differences make them stronger.
Allen Goltz, a music senior, noticed that the people in the circle were of many different ethnicities.
"I like looking around the room and there is nothing that is not represented here," Goltz said.
Sarah Malaika, an anthropology and French junior, said she is saddened when people refuse to date outside their ethnic background.
Suchdev offered a piece of advice when deciding to date someone from another culture. The rest of the panel seemed to agree.
"Follow your heart," he said.