Silent but strong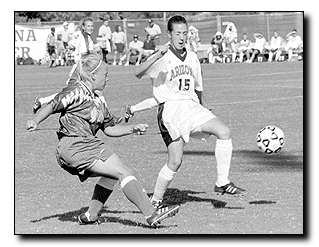 Wildcat File Photo
Arizona Daily Wildcat
Junior defender Ann Giallonardo (No. 15) takes possession of the ball in a Wildcat game last season. Giallonardo continues to be a solid aspect in holding the Wildcat defense together.
By Chris Martin
Arizona Daily Wildcat, September 22, 1999
The one thing the UA women's coaching staff can count on game after game is solid play from junior defender Ann Giallonardo. Giallonardo's game, built on consistency and resilience, has combined to make her a mainstay on the UA defense, even if it isn't the most glamorous position on the pitch.
"Ann is by far one of our steadiest players. Her leadership on the field is invaluable to us," assistant coach Andre Luciano said. "She is probably our most experienced defender, she has played exceptionally (well) so far this year."
Giallonardo's play on defense is one of the main reasons the Wildcats have been so successful this year and are off to one to the program's best starts (3-3 overall, 0-1 Pacific 10 Conference).
"I think this year's team is a lot more interested in trying to do well," Giallonardo said. "Last year we kind of slacked, and this year everyone's really intense and wanting to do better."
Last year, Giallonardo played as a wingback, but the Wildcat coaching staff moved her to the middle of the defense where she would be able to dictate the game's tempo. The switch also allows the UA to take advantage of Giallonardo experience and leadership, since she is surrounded mainly by younger defenders.
"If it's out of control, (I) just try to settle it back down," Giallonardo said.
With so many younger players on this year's team, Giallonardo's insight and wisdom on the soccer field are invaluable.
"I think she is a great impact on the team," sophomore midfielder Marisa Padula said. "She works hard at practice, she motivates and she never let's up."
Sophomore forward Kim McGehee agreed.
"She is a real big role model on the team," she said. "She is always out there (giving) 100 percent. I never see her slacking."
As the season progresses, one of the weaknesses Giallonardo wants the team to improve on is coming out strong to start the games, which has hurt them in losses to Brigham Young and Baylor, two ranked opponents.
"Starting the games, it seems like we don't come out as intense as we should," Giallonardo said. "(Starting) a little lax against good teams hurts us because they will get up one (to) nothing real quick."
Giallonardo has been impressed with the improvement of communication on this year's team, along with the enhanced passing and the quickened pace of the games, which lead to heightened expectations.
"As a team I would like to make the (NCAA) tournament," Giallonardo said. "After seeing how we played against top ranked teams, I feel we can make the tournament and come out on the top of the Pac-10. Not necessarily No. 1 because there are good teams in the Pac-10, but to be in the top few."
As she feels more comfortable with her new position, Giallonardo says she will become more aggressive offensively; but for the time being, her concentration lies in the defense.
Though someday she wants the glamour of the offense.
"My goal is to score before I graduate," she said.