Northcutt one of few standouts for Arizona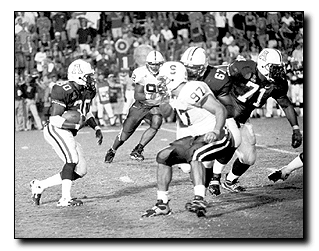 Nicholas Valenzuela
Arizona Daily Wildcat
Senior running back Trung Canidate tries to escape a Stanford defender in last Saturday's game. With the Washington State defense focusing on containing Dennis Northcutt, Canidate will need to have a big game for Arizona to get it's first Pac-10 win of the season.
UA football head coach Dick Tomey has a simple reason for why he never names captains before the season starts.
"You can't elect captains before the season and then have some of those guys fall flat on their face and not be leaders," he said.
Tomey's philosophy is that "leaders are developed through competition and they are developed through performance."
"It's all about making plays," he said. "The guy who has made the most plays so far for us is Dennis Northcutt."
Northcutt has 522 yards receiving on 31 receptions and five touchdowns so far this season. Washington State head coach Mike Price called Northcutt "a home run hitter" whom Price feels is the most dangerous man on the UA offense.
But Tomey said the Wildcats still need more players to step up into leadership roles, particularly those from "the combat zone."
"Dennis has done everything he could to provide the best leadership, but it has to be several guys making plays," Tomey said.
---
There have already been two changes on the depth chart for the game at Washington State this Saturday.
Senior free safety Rafell Jones has dropped below redshirt freshman Jarvie Worcester and senior inside linebacker Scooter Sprotte has lost his starting spot to junior Antonio Pierce.
"(It's) based on some team things, team decisions," Tomey said. "And quality of play as well."
One factor that might have contributed to Jones' and Sprotte's benchings is that both reportedly showed up late to the 7 a.m. practice Tomey called for Sunday. Tomey, though, would not confirm that was the reason.
Tomey did say, though, that more changes can be expected, saying that Jones and Sprotte were just "the two most evident."
---
Ex-Wildcat Yusuf Scott was back in McKale Center again yesterday, enjoying his day off from the Arizona Cardinals.
Scott was visiting his fianc­e, UA women's basketball player Lisa Griffith.
But that didn't keep him from spinning more stories about life in the NFL. This weekend Scott and the Cardinals were playing Miami, and despite the 19-16 loss, Scott seemed upbeat about the trip.
"It was real nice down in Florida because the guys who are from there, like Frank Sanders, had their families show up with all this food," he said. "They brought all this Popeye's Chicken and I got first (dibs). It was great."
Scott and the Cardinals are back in Phoenix, preparing for a showdown with the San Francisco 49ers on Monday Night Football next week.