Follow Your Heart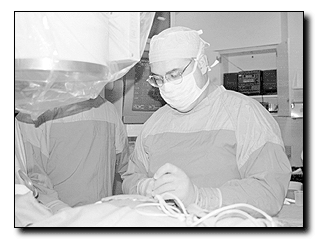 By Scott Andrew Taras
Arizona Daily Wildcat,
September 22, 1999
At some point in our lives, we experience feelings of doubt or uncertainty - feelings that are purely human nature. Have you ever said to yourself, "I'll never pass this exam" or "This class is to difficult for me?" Sometimes graduation seems impossible or too many years away.
Dr. Santiago C. Ramirez, president of Pima Heart, a 19-physician cardiology group, had these same thoughts.
Ramirez, a native of Tucson, was born and raised on the south side. At age 12, he was making money delivering newspapers in his neighborhood. By the age of 15, he was working for Tucson Newspapers Inc., loading newspapers into trucks.
The son of a construction worker and a homemaker, Ramirez saw that his mother and father never gave up. Everything Ramirez stands for today is because of his parents, including his character, morals and work ethic.
They taught him dedication, sacrifice, goals and that hard work pays off. His mother told him to "be proud of who you are and never forget where you came from."
Santiago's parents never stopped encouraging him to follow his dreams.
Ramirez is a graduate of Sunnyside high school and a first generation University of Arizona alum.
He paid for his undergraduate tuition by parking cars downtown and playing drums in his older brother's band.
During his sophomore year, at the age of 19, he married his high school sweetheart Lupe Duran. In 1982, he graduated and earned his bachelor's degree in microbiology and medical technology.
Ramirez continued to follow his dreams and was accepted to the UA College of Medicine. By the start of his first year in medical school, he and his wife had two daughters, ages 4 and 3.
Ramirez's younger daughter will graduate from Stanford this year and his older daughter is a junior at the UA.
In May of 1986, Ramirez received his doctorate in medicine from the UA. He completed his residency and internship at Tucson Medical Center and his Cardiology fellowship in Phoenix.
Ramirez practices all aspects of invasive and non-invasive cardiology, and is currently the assistant medical director of Tucson Heart Hospital.
During the four hours I spent photographing and interviewing Ramirez, I learned many things. Two will stay with me for a very long time - have faith in the desires of your heart and never stop chasing your dreams.