'Everybody in clothes'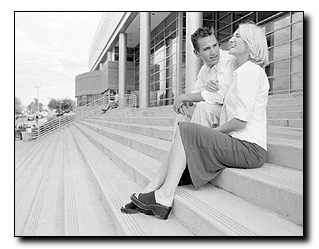 Sarah Brown
Arizona Daily Wildcat
Business junior Mike Ladenburg and nutrition science senior Lindsay Kimball model affordable and conservative fashions, Tuesday, in front of McClelland hall. The simple button-down white shirt is a staple of this timeless and elegant look.
Living on a meager college budget but tired of wearing that old potato sack with a rope around it? Yearning to dress like those stylish people who sing along to wacky remakes of pop songs? Want to look leisurely and debonair without spending an obnoxious amount of money on clothing? Then check out these fashionable, attainable ideas.
For men, a good alternative for the ever-present khaki chinos are Dickies. Any generic brand of khakis can reproduce the look of quality chinos, but Dickies do it with style and function at only about $20 a pair. They are scotch-guarded which makes them great for deflecting inevitable spills, but the coating makes the fabric incredibly stiff. Try excessive washing, drying and sleeping in the pants to relax them before regular rotation in the wardrobe.
White T-shirts are a timeless classic, also impossible to mismatch. Stick to the big industry brands for consistency without expense, but beware of different fits between brands. Both Hanes and Fruit of the Loom sell for $6 per pack of three, but the former offers a slimmer, longer fit.
Button-up long sleeve shirts can be found everywhere for moderate prices, but when buying one of these, stick to the lighter material to stay cooler in the eternal summer heat of Tucson. Note: You may want to wear an A-shirt (a.k.a. "wife beater") underneath this to avoid putting your nipples on display. This shirt can give a real sleek look when left untucked with the top button undone and sleeves casually rolled up.
For women, the button up short sleeve blouse is the perfect accessory to any bland outfit. Classic white should be worn with care in regard to the color of the shirt lying underneath. The best combination when using white on top is to reflect it underneath to avoid overlapping submissive and dominant colors. Of course the latest trend of Hawaiian T-shirts always adds fun definition to the canvas of a white top.
Capri pants are the latest and greatest trend because of their versatility. With these you can get really creative. Go to any thrift store and grab some inexpensive funky, retro or antique trim fitting slacks and have fun. You can do anything to manipulate these mild mannered trousers into hip clam diggers. Cut and fray the bottoms or just simply roll them up in wide cuffs, or go for the genuine effect and have them hemmed (about three inches below the knee is perfect). For both men and women, cords, jeans, polos and gender-specific accessories, such as sweater-vest pullovers, tank tops and cardigans, all can be found for modest prices at most second-hand stores. Thrift store shopping is the authority in carrying a variety of clothing with more flare and character than the usual store-bought new merchandise. Yet don't forget to look for clearance sales at you favorite department store, too.
A final tip: If it looks made for sailing, then it's ready to wear. Be on the lookout for drawstrings and buttons instead of zippers, and anything that uses or looks like a 'windbreaker' - nylon with few pockets.