Looking up at the ground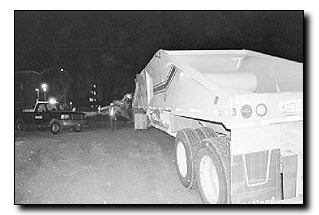 Scott Andrew Taras
Arizona Daily Wildcat
Graveyard shift construction workers excavate the UA Mall while Tucson sleeps last week. The late-night digging will continue for approximately two more months.
By Ty Young
Arizona Daily Wildcat,
September 27, 1999
While UA students and faculty members are fast asleep at night, there is a small community of men busy at work, digging a large hole in the center of campus. They are the construction workers who are excavating the heart of the University of Arizona Mall for the Integrated Learning Center.
For the next two months, their world will consist of an 85,900 square-foot area illuminated by the light of the moon and six artificial light fixtures.
As excavation continues during the next month, their world will slowly sink further below the ground that thousands walk on each day.
The language verbalized from their helmet-protected mouths is peppered with terms such as "loose yards," "bank yards" and "excavation specs." Their bodies are clad in uniforms of orange and highlighted by yellow glowsticks.
Their work day begins with the setting of the sun and concludes at sunrise.
Despite the obvious differences between these men and the people for which they are laboring, these construction workers have a lot in common with students.
"I go to bed around 7 a.m., after a few beers of course," said ILC worker "Mighty" Joe Young, a 1977 UA graduate. "Everything is going on schedule."
"We're all best of friends," said Project Superintendent Robert Manning. "It's like a family."
Even though Manning is a graduate of Arizona State University, he dons a large UA sticker on his hard-hat.
"My loyalty is to the UA, just in case you couldn't tell," he said, pointing to his helmet.
There is also a noticeable difference in the worker's ages. According to Matt Hazen, project manager for Hydro-Metrics, each worker builds upon each other's presence. This, he said, adds to the family-like atmosphere.
"We have the new guys from the Nintendo generation. They've got practice working those joysticks," Hazen said. "They can run those trucks all around us old guys."
Manning said, "I've been doing this since I was 14 and I'm 40 now, so it doesn't bother me at all. It's certainly a hard job, but we really have fun doing it."
The excavation process is defined by a very dynamic set of plans, said Hazen, who is also a 1996 UA civil engineering graduate.
He added that while the project involves the most extensive renovation plan currently implemented on campus, there are only nine Hydro-Metrics workers involved in the excavation process.
The workers use bulldozers to unearth the ground while dump trucks carry the excess dirt from the site every five minutes. The dirt is transported to other construction sites that need it.
Hazen said that the process takes a lot of communication with both Tucson residents and UA students. He stressed Hydro-Metrics' commitment to reduce interruptions in the lives of nearby residents.
"Safety is the most important part. We understand that this is a learning facility and we're doing everything possible to minimize the difficulties for students," he said.
Hazen said Hydro-Metrics is working with the Tucson Police Department in order to reduce traffic noise.
"We have a TPD person at the corner of (East) University (Boulevard) and (North) Campbell (Avenue) that signals to the trucks when there is oncoming traffic. This allows the trucks plenty of time to stop and not screech their brakes," he said.
While student and resident safety is an issue, Hazen said there are several rules enforced to prevent worker injury. Because of this, there have been no reports of safety problems, said Wes Wright, project safety manager.
"The safety (record) is perfect. Everybody wears the orange vests and the yellow glow sticks. The helmets have reflective tape as well," Wright said. "With all this, the safety here is excellent."