Buying Internet term papers could prompt UA expulsions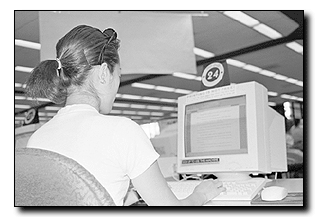 Scott Andrew Taras
Arizona Daily Wildcat
Journalism junior Chihiro Nagura works on a computer in the UA Main Library. Nagura enjoys surfing the Web and uses the computer daily for homework assignments.
By Rachael Myer
Arizona Daily Wildcat,
September 27, 1999
UA students who purchase term papers on the Internet and turn them in for credit could be expelled from the university, an associate dean of students warned.
Alexis Hernandez, the University of Arizona's associate dean of students, said he "supposes" UA students have bought term papers off Web sites, but didn't have any statistics about how many students have turned them in as their own original work.
But Hernandez said 113 academic integrity cases were filed in the 1998 fiscal year.
"The professor sets rules and decides if it is a violation and beyond that what are the appropriate sanctions," Hernandez said.
Hernandez said a possible result of such a violation could be expulsion - a consequence determined by a special hearing board.
Despite the possible repercussions for students, Web sites that sell papers are still popping up.
Some companies advertise that they will get term papers to students within 24 hours. Others charge $20 per page.
Cheathouse.com advertises that they have 9,500 essays in their database from 44 categories.
The site states that two million people have been served and that the company has been leading the term paper industry since 1995. The site provides 15 tips on how to cheat on exams.
Cheathouse.com states on the Web site that the company will help formulate ideas for "when that deadline is a few moments away and you still haven't started that assignment."
Another on-line service, Termsnpapers.com, advertises that its services should be used when people need inspiration, don't have the research to start writing, don't have time but "desperately" need a good grade or "you are simply too tired and don't feel like doing the term paper."
However, the company's site states that the term papers can't be turned in for the purchaser's own credit and should only be used as a guide.
The Termsnpapers.com Web site states that the papers are written by "quality and experienced writers who dedicate their time to produce the best results for you."
Planetpapers.com advertises that their papers are free and should be used as an "educational resource."
But the company charges $16.95 a page with a five-page minimum for custom-made essays.
University attorney Mike Proctor said the state of Arizona, unlike other states, doesn't have strict legislation about Web sites selling term papers.
"Even though in those areas where it is regulated, it's very difficult to enforce," Proctor said. "Really, the students end up the ones where its much easier to enforce."
Visiting philosophy lecturer Andrew Cohen said he suspects students have turned in term papers bought off the Internet for his classes, but doesn't know for sure.
Cohen said he typically fails students who don't write their own papers.
He tries to assign unusual topics to safeguard against students using someone else's work.
"You're not learning anything, which defeats the purpose of being in college," Cohen said.
Psychology and secondary education sophomore Teresa Blevins said she knew three students when she was in high school who took Shakespeare papers off the Internet and turned them in as their own work.
"I think it's stupid because you could get in trouble easily," Blevins said, adding that the teacher never knew.
Physiology freshman Wesley Richey said buying a term paper off the Internet isn't worth the risk.
"Not worth getting thrown out of school for," Richey said.
But he said using the term papers for research purposes is acceptable.
"It gives you a format - something to look at," Richey said.
Molecular and cellular biology freshman Gloria Nieto said she heard the quality of term papers from the Internet isn't the best.
Nieto said she thinks there is no excuse for cheating.
"It'll never get you ahead, it will only get you stuck or behind," she said.