Cake comes to Tucson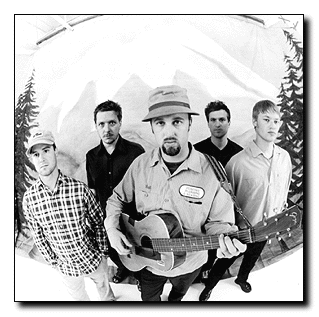 Arizona Daily Wildcat
Photo courtesy of Capricorn Records.
Cake plays to a sold out audience at the Rialto Theatre on Sunday. The members from left to right are: Gabe Nelson, Todd Roper, John McCrea, Vince DiFiore and Xan McCurdy.
Not every Billboard chart-topping band takes time out of their busy schedules of recording and touring to perform for 150 people at a bar mitzvah. But when an 11-year-old fan named Mitchell wrote to the band and asked them to play at his upcoming bar mitzvah, the band agreed.
"His sympathy for our management negotiations and scheduling was so understanding, that we wanted to do it," said Cake trumpet player Vince DiFiore in response to Mitchell's letter. "The show was a good experience, like a bar show. It gave us a chance to do some real performance art."
It's that kind of quirky and fun-loving attitude that characterizes Cake and sets them apart in the current mire of modern rock bands. Now at the end of a tour promoting their third album, Prolonging the Magic, Cake comes to the Rialto Theatre for a sold-out show this Sunday.
People often wonder about the origins of the band's simplistic name. "It's aggressive, short, and looks good on a flyer," DiFiore said. He added that when the band began in the summer of 1991, there were a lot of four-letter titled bands.
"Music does not come from a vacuum," DiFiore said as he explained Cake's influences. The band combines jazz, blues, folk and even the often maligned country western genre into their unusual style. Yet, for these boys from Sacramento, Calif., country music is just another form of soul. And, he notes, "white people have souls also."
Cake's notoriously sardonic lyrics come mainly from the mind of lead singer and guitarist John McCrea. With tracks about lost romance, farm animals and the evils of bucket seats, it's hard to see a pattern. In the song "Race Car Ya-Yas," fuzzy dice on a rear view mirror are compared to male anatomy, while in "Sheep Go to Heaven," lambs are saved but goats are damned to hell. Ultimately DiFiore said, "our songs are about trying to make sense of love in modern times."
His favorite song "Frank Sinatra" comes from the band's second album, Fashion Nugget. "It sums up a lot of the misunderstandings between the generations. Since Frank Sinatra is a part of the previous generation, he illustrates that gap," he said.
The band is happy to be playing smaller venues after so many large festivals this summer. "We have found our concert pace, our skills are well honed and our attitudes are adjusted," he said.
Though he's not sure which track, DiFiore says that another Cake single should be debuting pretty soon. "So far there's been three songs from the current album, and 'Let Me Go,' the newest one, is doing pretty well," he said. Also, a new album may be available within a year.
After the show on Sunday, Cake will take a break and then travel to Brazil in mid-October for a free Jazz Festival. "The band is pretty popular in South America," DiFiore said. "Our version of 'I Will Survive' is the theme song for a popular television show in Argentina."