Athletes & their lives beyond games and practices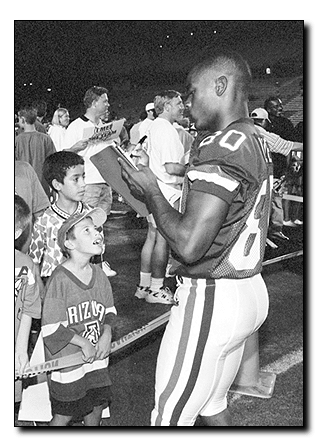 Wildcat File Photo
Arizona Daily Wildcat
UA freshman wide receiver Gary Love (80) signs autographs for young fans at the annual Meet the Team gathering. Events like it give UA players another way to connect with people in the community around them.
The majority of athletes are serious students, though there will always be a few Mike Bibbys who come to UA merely to improve their game and move on to the professional ranks.
Still, most students hold athletics in high regards, proving the environment that caused the Princeton Review to name UA the No. 1 jock school in the country does exist.
'Looking from the inside out'
The general belief among the athletes and coaches is that people in the community respect them. They speak from times they get to meet the public, and not just at games.
Senior quarterback Keith Smith, one of the more recognizable faces among Wildcat athletes, said he's always been treated well by the public.
"I think so, just from Meet the Team and stuff, you actually get to talk to the fans, they seem like they're really behind us," he said. "You're walking around town and they're nice, and they understand we're having a tough time right now. But the true ones are standing behind us."
Associate athletic director Kathleen LaRose said she rarely ever gets bad comments about UA athletes.
"It's hard to say looking from the inside out, (but) I think they're perceived pretty well," she said. "They're hard workers.good students, the majority are very good students. All my contacts in the community always get very favorable reaction."
Cross country head coach Dave Murray said a big part of the reason so many people know UA athletes is that, unlike Arizona State up in the Phoenix area, the Wildcats are "the only game in town."
Men's basketball head coach Lute Olson said he's satisfied with how athletes act off the court.
"I'm really proud of the way UA athletes handle themselves," he said. "We're part of society so you're going to have some difficulties. If you put the general student body under the microscope, they wouldn't fare too well either."
And then there are their fellow students
But athletes assuming what their fellow students think is one thing; the truth is another. For the most part, a majority of students said they either liked athletes or were indifferent toward them.
"I don't know any athletes here at the school. Everybody is a person though, and if they are good at their thing, then more power to them," said Ryan McNamara, a freshman majoring in biochemistry.
Marketing sophomore Kirsten Milkovich said she doesn't judge athletes differently than any other person just because they are athletes.
"For the most part they are like everyone else, some are nice and some are mean," she said.
Milkovich said she has never had a bad experience with an athlete at UA, nor did she in high school. In fact, no student admitted to having a bad encounter with an athlete, though that doesn't mean it doesn't happen.
UA senior cornerback Leland Gayles allegedly assaulted his girlfriend last week, but incidents like that have been few and far between.
Tami Hubbert, a creative writing and English senior, has had more contact with athletes than most students. She played on the women's lacrosse club team, which also gave her a unique perspective on how lucky scholarship athletes are.
"I feel like they should be really appreciative of what they have, they should feel lucky," she said. "I've never had an experience where anyone looks down on club athletes."
Hubbert said an example of that came when she and her teammates were visiting McKale for some fundraising.
"We were in this one office and they were trying to get a class for this one basketball player," she said. "They were saying 'we have to get him this class.' I don't see them giving us that special attention or giving us priority registration."
Hubbert said most of the Division I athletes she has met over the years are good people, but every now and again she does meet someone who sees himself as an athlete first and a student second.
"I've seen where it's not appreciated," she said. "They need to understand it's that you're not just this great player, but a student too."
High marks from the UA faculty
Professor Jeffrey L. Warburton, the acting head of the theater arts department, was a little miffed that one category used to decide the UA's No. 1 jock school ranking, was that it had low theater attendance and not much appreciation for the fine arts among its students.
"Absolutely not, I don't know the percentage of our students that go, but we have three classes that require students to attend plays," he said. "We play to 92 percent capacity, it's a wide range of people who come, not just students, but we have extremely good attendance."
That doesn't mean, though, that Warburton dislikes athletes for taking some attention away from his department.
"I think they're excellent," he said. "They're a student first and an athlete second, they take the student aspect very seriously. It's a misnomer that they (don't) enjoy being a student."
Two current UA football players, linebacker Adrian Koch and defensive back Derek Hall, are dramatic theory majors and Warburton called them "gentlemen."
He said athletes are a lot like theater majors who are performing in a play.
UA president Peter Likins agreed.
"I find it easy to say that the life of a serious college athlete is much more challenging than the life of a student who is only here for course work," he said. "(But) there are parallels in the arts, which take comparable amounts of time and psychic energy."
Smith, a family studies major, said he plans to graduate either in May or this summer.
"I think academics is important because I have no guarantees I'm going anywhere after this," he said. "People may be calling you and telling you you're going to get drafted, but I don't know that, I've got no guarantees. I'm not here just to take classes so I can play football. I told my parents I'm going to graduate and they come down and ask me about it every weekend when there's a game."