Restaurant smoking ban takes effect today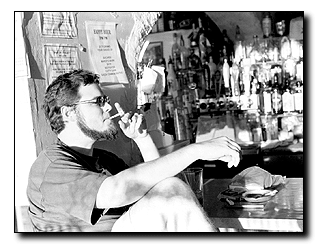 Joshua D. Trujillo
Arizona Daily Wildcat
Musician Oslo B., a former UA student, enjoys his final day of legal smoking inside a university-area restaurant. Tucson's new city ordinance banning smoking in restaurants will be enforced starting today.
Starting today, Tucsonans will no longer be able to light up in restaurants, which has some campus-area eateries adapting to accommodate their smoking patrons.
The city-wide smoking ban in restaurants takes effect today, which means establishments earning more than 50 percent of their profits from food sales must be smoke-free.
The City Council ordinance, passed on April 12, states that a smoking section in any restaurant must be physically separated from the non-smoking section, and it must have a separate ventilation system.
The ordinance also states that if the restaurant has an outside smoking area, it must be 15 feet away from any exit or entrance to the establishment.
Tom Clark, owner of Bison Witches Bar & Deli, 326 N. Fourth Ave., said he was going to make the restaurant's outside patio a smoking section, but the patio is within 15 feet of the restaurant, so it has to be non-smoking.
But Clark said the restaurant will still allow smoking on the left section of the restaurant.
"Basically we'll put our smoke eaters on that side, it has separate ventilation and complies with the law," Clark said.
Clark said the restaurant is considered a bar after 10 p.m. and smoking will be allowed throughout the establishment from then until last call at 1 a.m.
Even though patrons will be able to smoke during those three hours, Clark said he still thinks the restaurant will lose business.
"We will be (affected) because a lot of our competition like Maloney's and O'Malley's have a bar license and they can have smoking all the time," Clark said.
Dennis Arnold, owner of Gentle Ben's Brewing Co., 865 E. University Blvd., said he was not informed by the city about the ordinance and everything he knows about the law he read in the newspaper.
"It seems odd that (the city) would legislate something and not notify establishments of it," he said.
Arnold added that he does not think the ban will affect the restaurant, because they have a large patio along with an upstairs area with a separate ventilation system where smokers will be able to congregate.
"We can handle any law because of our size," Arnold said. "I'm more worried about these small places."
Bill Eyrich, the general manager of Geronimoz Restaurant & Bar, 800 E. University Blvd., said the establishment will still have a smoking section.
"We have a downstairs that has a separate ventilation system," Eyrich said.
Eyrich added that the rest of the restaurant will have to be smoke-free.
"Even our patio is no good, because it has to be a certain distance away and it's not," Eyrich said.
A former UA student and musician who uses the name Oslo B, said the new ban doesn't affect him.
"I don't mind going to a place that doesn't have smoking if it has good food," he said, while smoking in Bison Witches. "When I go to a restaurant, I go to eat, not to smoke."
A person violating the law can be fined a minimum of $100 on a first offense and as much as $2,500. The minimum fine increases by $100 for each offense.
A restaurant owner can be fined a minimum of $250 on a first offense and as much as $2,500, while the minimum fine increases by $250 for each successive violation.
The city of Tucson encourages citizens to report violations of the ordinance to the Tucson Police Department at 791-4444, the Tucson Fire Department at 791-4502 or Development Services at 791-5550.
Tucson Fire Department Capt. Brian Delfs said the fire department is going to be checking during building inspections to make sure a "no smoking" sign is posted in restaurants.
Delfs said people can call the department if a restaurant does not have a no-smoking sign posted, then fire officials will ask the business owner to post a sign.