Silver Screen Must Sees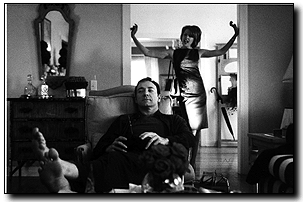 Arizona Summer Wildcat
One of this fall's must-see dramas, "American Beautyš stars Kevin Spacey and Annette Bening in a look behind the white picket fences of suburbia.
By Graig Uhlin
Arizona Daily Wildcat,
August 25, 1999
Sob, the Gallagher's gone. No more midnight movies. We can no longer see a movie that was released just a few months earlier for a mere $2.50. Instead we must go to ordinary theaters like ordinary people and see movies that have premiered in the last few weeks and pay full price.
So since we are all going anyway, we at the Arizona Daily Wildcat arts desk have compiled a short list of the must-see flicks from the 154 new releases for this fall, which is shaping up to be an exciting season.
There are highly-anticipated sophomore efforts from Paul Thomas Anderson (Boogie Nights) and Frank Darabont (The Shawshank Redemption), debuts from promising directors and writers, plenty of laughs, even more tears and the typical Hollywood abundance of beautiful people.
MUST SEE DRAMAS
"American Beauty" (Oct. 1)
Starring: Kevin Spacey, Annette Bening, Wes Bentley
Director: Sam Mendes
Synopsis: A dark look at contemporary suburban America. Spacey and Bening play a married couple in a family plagued by secret fantasies and dysfunction including Spacey's passion for his young daughter's friend.
Why This One? Highly talented director who brought life and lust back to Broadway with Cabaret and The Blue Room. Hot Oscar buzz on the acting performances (Harry Knowles' Ain't-It-Cool-News.com Web site raved.) Plus, intense bidding war won by Steven Spielberg who green-lighted the project just two days after reading the script.
"Fight Club" (Oct. 15)
Starring: Brad Pitt, Edward Norton, Helena Bonham Carter
Director: David Fincher
Synopsis: Disillusioned Jack (Norton) forsakes his everyday, regulated world in favor of the darker underworld of fight clubs where other disillusioned men including Pitt regularly beat the crap out of each other as a means of finding something real in our Starbucks-on-every-corner world.
Why This One? Sooo much talent. The director of "Seven" coupled with a cast that has a good number of Oscar nominations between them. Based on a Chuck Palahniuk novel, this movie is more intelligent than one might expect, so be prepared. It will make you leave the theater shocked, shaken and thinking.
"Being John Malkovich" (Oct. 29)
Starring: John Malkovich, John Cusack, Cameron Diaz
Director: Spike Jonze
Synopsis: This film can easily boast this fall's strangest concept: Craig (Cusack) discovers a portal that puts one directly into the mind of John Malkovich, played by John Malkovich.
Why This One? Who isn't at least a little bit curious about what it is like to be John Malkovich?
"The Green Mile" (Dec. 17)
Starring: Tom Hanks, David Morse, Bonnie Hunt, Michael Clarke Duncan
Director: Frank Darabont
Synopsis: Based on the six-part, Stephen King novel, this movie is a prison drama that follows the story of a death-row prison guard (Hanks) and a mystical, very tall black inmate (Duncan) convicted of killing two white girls.
Why This One? Tom Hanks, Tom Hanks, Tom Hanks. Stephen King, Stephen King, Stephen King. Oh, and a director whose debut film, "The Shawshank Redemption," garnered seven Oscar nominations.
"The Talented Mr. Ripley" (Dec. 24)
Starring: Matt Damon, Gwyneth Paltrow, Cate Blanchett
Director: Anthony Minghella
Synopsis: Damon, playing Tom Ripley, kills and assumes the identity of a friend whose life he envies, but he still somehow remains likable.
Why This One? Check out that cast. Damon, still riding the Oscar wave. Gwyneth, riding an Oscar wave that puts Matt's to shame. And Cate, in her follow-up performance to last year's "Elizabeth". It also doesn't hurt that Mr. Minghella directed the Oscar-friendly "The English Patient."
MUST SEE COMEDY
"Dogma" (Nov.)
Starring: Ben Affleck, Matt Damon, Linda Fiorentino, Chris Rock, Salma Hayek, Alanis Morissette
Director: Kevin Smith
Synopsis: Damon and Affleck play a pair of murder-loving fallen angels who try to scam their way back into heaven and only the direct descendant of Jesus (yep, we said Jesus) played by Fiorentino can stop them.
Why This One? A rich, dark satire of Catholicism by the director of "Chasing Amy" where Alanis plays God. The Second Coming couldn't keep us from seeing this movie. Not to mention the controversy it caused at Cannes and Disney.
MUST SEE INDIES
"Body Shots" (Oct. 15)
Starring: Tara Reid, Brad Rowe, Jerry O'Connell
Synopsis: Young, beautiful people sober up the next day and must figure out exactly what sins they committed the night before.
Why This One? In addition to its oh-so-attractive cast, this movie promises to be the next "American Pie" with all the tawdry sex, only smarter.
"Magnolia" (Dec. 25)
Starring: William H. Macy, Julianne Moore, Philip Baker Hall
Director: Paul Thomas Anderson
Synopsis: We dunno. The plot is being kept top secret but expect only the best from this director who wrote the screenplay.
Why This One? This director of "Boogie Nights" is so highly regarded that Tom Cruise called him up personally for a role in this movie, an unbilled role, which he got.
MUST SEE HORROR
"Sleepy Hollow" (Nov. 19)
Starring: Johnny Depp, Christina Ricci, Miranda Richardson
Director: Tim Burton
Synopsis: A romance involving Ichabod Crane (Depp) and the daughter of a wealthy man (Ricci) set against the backdrop of the legend of the Headless Horseman.
Why This One? Do you know why you liked the first two "Batman" movies and hated the last two? Because Burton only did the first two. And only a truly creepy guy could make this truly creepy movie any good.
"Scream 3" (Dec. 10)
Starring: Neve Campbell, Courtney Cox, David Arquette, Parker Posey
Director: Wes Craven
Synopsis: Murder strikes on the set of "Stab 3," which is the sequel to "Stab 2," the fictional movie based on "Scream 2." Get it? Neither do I. People die, Courtney Cox screams, the audience leaves happy.
Why This One? Although horror movies are growing tiresome after a string of bad ones featuring WB sitcom stars and although Kevin Williamson who has penned all three Screams seems to be losing his edge from overwork, we still can't wait to see which celebrity bites it in the first five minutes.
MUST SEE ROMANCE
"Random Hearts" (Oct. 8)
Starring: Harrison Ford, Kristin Scott Thomas
Director: Sydney Pollack
Synopsis: Two very different people (Ford and Thomas) find love after a plane crash in which their spouses who were having an affair die.
Why This One? This movie is one of the few romances set for the fall season, and it is the best of them. Great cast with potentially very good on-screen chemistry and a gifted director.