Fall Crawl Tell-All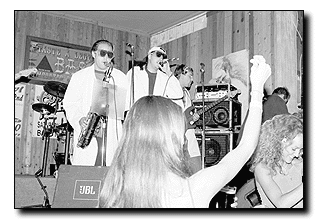 Arizona Daily Wildcat
Photo by: KAREY KINGERY
The Band Funky Bonz plays for students and fans at Mutts as part of the 1999 Fall Club Crawl. The Fall Crawl consisted of 75 bands that entertained the crowds of fans on Fourth Avenue from 8 p.m. until 1 a.m. Saturday night.
Fall Crawl 1999, 8 p.m.- 1 a.m., 75 bands, 18 clubs, 500 free parking spaces, lots of intoxicated people, all for the low price of $5. The downtown bar-hop tour of Tucson's music scene is mapped out in a band-per-hour-per-club format. Candy and Trent, two UA students (names have been changed) spent their evening at Fall Crawl. The night began with Pathos and a couple of $4 Coronas at the Club Congress inside stage. The group was dressed in Devo-like costumes and began their set of experimental melodic pop/rock with an intense presence. "The band is awesome, but I can't believe I just spent $4 on a beer," Candy said.
At 9:30 p.m., Candy and Trent move on to Double Zero to check out Paste, newcomers to the Tucson scene. Their stay is brief. "The bar is too small, and the band needs work," Trent commented.
"Can we go back to Pathos?" Candy asked after hearing the first verse of one song.
The two students relocated to Heart Five to check out the techno mixes of DJ DSL and Psydel. The smoke machine was poring smoke out the front door, and colored laser lights were excitedly bouncing off the walls, "This is exactly what Tucson needed, a hip dance club with talented DJs," Candy said while buying a pint of Bass for three dollars. Trent agreed with Candy as he drank a $3 Sapphire and Tonic, "It's like a rave with a bar that's affordable."
On their way to Fourth Avenue, Candy and Trent stopped at the Zia main stage to see The Zsa Zsa's montage of cover songs. Unable to clearly hear or see the band playing on the stage or find where the bar was, they went on to the Rialto Cabaret.
Hipster Daddy-O and the Hand Grenades were doing their swing thing, and although a bar could not be found, Candy and Trent stayed for a couple of songs, including the group's cover of Adam Ant's "Goody Two Shoes." "The band was cool, the cover was awesome, but the club was way too crowded," Candy said.
At 11:45 p.m., Candy and Trent decided to head back over to Heart Five to get some drinks they could afford. When they arrived, the line into the club extended about a half a block from the entrance. After waiting for 15 minutes in the same spot, Candy and Trent opted for another bar in hopes of getting in before last call. They hurried to Mutt's on Fourth Avenue.
"This sucks," Candy commented on seeing the massive line coming from the door of Mutt's.
"I can't believe this. There's too many people here," Trent observed of the whole downtown area. The two finally gained entrance at 12:30 and had their last beers of the night for $3 a piece while listening to Warsaw.
After the night had come to a close, Candy said, "Fall Crawl was a lot of fun, although the wristbands were cheap, the drinks were too expensive and the clubs were too crowded. But most of the music made up for that."
Trent agreed, "Yeah, I had a good time. At Club Crawl I'll bring more money."