Clothes Line Project 'slices the silence' about domestic violence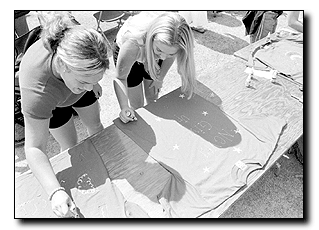 Arizona Daily Wildcat
Photo by: SARAH BROWN
Business freshmen Angela Bonaventura and Suzzane Voors voice their concern for domestic violence victims by painting T-shirts yesterday on the mall. These T-shirts were collectively pinned on a clothesline to promote peace and awareness among students.
Newly-painted T-shirts that blew in the wind on the UA Mall yesterday caused people to stop and question the purpose of the display.
The shirts were part of a collaborative effort by the Oasis Center and several on- and off-campus organizations to commemorate the first annual Clothes Line Project.
The activity, which will continue today and Thursday, is the University of Arizona's way to honor domestic violence victims for National Domestic Violence Awareness month.
"Events like the Clothes Line Project are very influential in raising the level of awareness about services on campus," said Irene Anderson, director of the Oasis Center. "(It is) also a way for our campus community to ... participate in a very creative expression of something that is usually thought of as disturbing and to be avoided."
Throughout the gathering of mostly female on-lookers, there were many supportive gestures, like hugs, exchanged in a silent form of support. Others voiced their experiences and opinions by painting about 100 symbolically colored T-shirts as the voice of Lisa Otey, a local Tucson jazz musician, rang out in the distance.
All of the T-shirts were purchased with funds provided by the Arizona Commission on the Status of Women, an event collaborator, and by the end of the activity, all shirts had been used, Anderson said.
White shirts stood for murder victims, beige for victims of domestic violence or assault, red for rape or sexually-assaulted victims, blue for incest or child sexual-abuse survivors, and purple for lesbians who had been victimized, she said.
"It creates conversation, dialogue, and gives permission for people to acknowledge their experiences of trauma," Anderson said about the impact of the Clothes Line Project. It also helps people to "see how many other people have had those experiences as well - to slice through the silence."
The T-shirts were not only displayed to provide a greater awareness but also to display the victims' strength and survival.
"If we can realize survival from violence is just as strong (as the violent act), we can realize the strength in the survival," said Ellyne Bell, executive director of Brewster Center, a domestic violence support center at 2711 E. Broadway St.
The T-shirts were also there to show there is hope and help for those who are being victimized or those who know victims but don't know where to turn.
"It makes me feel sad so many people are affected," said Stefanie Reeves, physiological sciences senior, as she looked over at the line of T-shirts. "But it shows there's hope (and) it covers a wide range of violence - it shows that these people are here to help."
Other students agreed that the activity was a positive one.
"It looks like they had a pretty good turn out," said Tim Vernooy, media arts junior. "It's doing some good ... it's a pretty good thing the campus accepts it on campus."