Drawing the line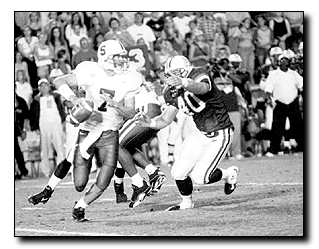 Nicholas Valenzuela
Arizona Daily Wildcat
UA senior linebacker Marcus Bell chases down Stanford quarterback Todd Husak during the Cardinal's 50-22 victory over the Wildcats on Sept. 18 at Arizona Stadium. Bell voiced his displeasure with the Wildcats' rush defense and realizes that they have plenty to contend with when USC comes into town for a 12:30 p.m. showdown at Arizona Stadium.
It will be a tale of two defenses when Arizona meets No. 22 Southern Cal tomorrow at 12:30 p.m. at Arizona Stadium.
The Trojans (3-1 overall, 1-1 Pacific 10 Conference) have the top defense in the Pac-10, giving up 329.3 yards per game. In comparison, the Wildcats' (3-2, 1-1) defense is giving up 397 yards per game, ranking them seventh in the Pac-10.
Arizona's rush defense is dead last in the conference (196.2 ypg allowed), while USC's is first (83.5 ypg).
"We have not played good defense," UA head coach Dick Tomey said. "Our standards are much higher than our performance has reflected. We haven't created turnovers."
The turnover problem-Arizona has forced only five- has not gone unnoticed by the UA defenders.
"I would have thought someone was joking," redshirt freshman free safety Jarvie Worcester said if he had been told the Wildcats would have only one interception so far.
"That's a big thing," senior linebacker Marcus Bell said of the lack of turnovers. "(It's that) our defense is struggling and turnovers help in all aspects. It's hard, but we've got to pick it up. We can't talk about it, we've got to make it happen. This game we've got to get some if we're going to have a chance."
As big a key as it is for Arizona to force some turnovers, it's equally important for the Wildcats to get to USC junior quarterback Mike Van Raaphorst.
"The pass rush is important no matter who you're playing," Bell said. "If you can pressure the quarterback, that's when you get turnovers and that's when you make plays. It's a real key, we need to get some and I think we're going to this week."
USC head coach Paul Hackett admitted the fact the Trojans haven't played the Wildcats in three years could be a problem, since not many other teams have Arizona's Double-Eagle Flex Defense.
"We look at them defensively as being complicated for us," he said. "I've never sat down and studied the flex defense as we call it. It's all new to me. It's going to be tough to get ready for something as radically different in one week. I think that's a real advantage for Arizona."
Bell said that while the Trojans don't see Arizona's style of defense very often, it won't matter if the Wildcats can't play well.
"Sometimes we look good and sometimes we don't," he said. "The thing that probably bothers me the most is the inconsistency in the way we play. Anything in life, you've got to be consistent if you want to be good."
On the other side of the ball, the Wildcat offense will have to contend with a skilled USC defense.
"They're a very good defense, they're a physical defense," UA senior wide receiver Dennis Northcutt said. "They like smashmouth football. I call it LA style. They bring my type of game."
USC will more than likely match up cornerback Kris Richard (17 tackles, 4 INT) on Northcutt, but Northcutt said he doubts he'll get double-teamed all that often.
"I don't think that's their style," he said. "I think at times they will, but I don't see them really trying to focus on me. That's USC, they're not going to let one man beat them, especially not me."
As for how important the game is, UA senior running back Trung Canidate summed it up for both teams.
"This game is crucial," UA senior running back Trung Canidate said. "Every game we've got left is crucial. If you look at it any other way then hey...
"This game is very important from the standpoint that it's the Pac-10. We're still trying to get this snowball effect going."