UA volleyball team rebounds to sweep Washington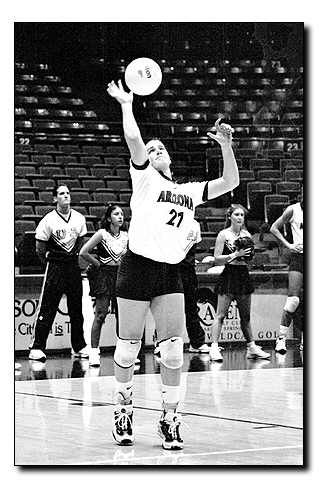 Wildcat File Photo
Arizona Daily Wildcat
Sophomore setter Dana Burkholder delivers another serve last night against Washington during the Wildcats sweep of the Huskies 15-8, 15-1 and 15-8. UA is back on the floor tonight as they take on Washington State at 7.
By Ryan Finley
Arizona Daily Wildcat, October 8, 1999
Following last Friday's crumbling loss to Arizona State, UA head coach David Rubio admitted that changes needed to be made.
"We need to pass, serve and play better all around," Rubio said. "We need to rebound."
The Wildcats (10-5 overall, 4-2 in the Pacific 10 Conference) rebounded in a big way last night, sweeping Washington by the score of 15-8, 15-1 and 15-8. In the process, UA set a school-record for team kill percentage in a game, hitting an astronomical .842 (16 kills in 19 attempts) in game two.
"We got our confidence back tonight," Rubio said. "We served aggressively, passed well and played wonderfully in game two."
Freshman outside hitter Lisa Rutledge led all scorers in kills with 15, while junior middle blocker Marisa DaLee hit .667 from the field.
Rubio had nothing but high praise for his team, especially Rutledge.
"I've been saying for a long time that Lisa is pretty special," Rubio said. "Coming out of high school, she was one of the best players in the nation for her position. We're just lucky to have her here and glad that she's producing."
The Huskies (6-9, 2-5) never threatened in the brief match. The Wildcats pesky defense held Washington to a paltry .165 kill percentage.
"Elvina Clark and the rest of the defensive specialists were the unsung heroes tonight," Rubio said. "Everyone played great volleyball."
The Wildcats will be have the opportunity to get right back on the court tonight as they face Washington State in McKale Center at 7:30. Rubio doesn't expect the Cougars to lie down, however.
"Washington State is, by all accounts, a much better team that UW this year," Rubio said. "They'll be waiting for us."
Women's soccer faces 2 ranked team this weekend
Pacific 10 Conference plays gets into full swing for the UA women's soccer team as they take on No. 14 USC and No. 8 UCLA this weekend in Los Angeles.
The Wildcats (6-4-0 overall, 0-1-0 Pac-10), who are riding a program best three-game winning streak, look to achieve another first by defeating a ranked opponent.
"I think we will do real well this weekend," junior goalkeeper Inger Airheart. "We have played well and I think we can steal two victories."
The Wildcats are lead by junior forward Chrissy Sanford, who is currently second in Pac-10 scoring with 23 points (nine goals and five assists).
"We have to play two good games," UA head coach Lisa Fraser said. "All we can do is play our game, and if we do that we will be successful."
- Chris Martin
Tennis team's open season this weekend
The UA women's and men's tennis squads will begin play this weekend as the women head to San Diego for the San Diego State Invitational, while the men make their trip to the University of Texas for the 1999 Reebok Men's Al-American Championships.
The women will join players from UC Irvine, UC San Diego and San Diego State, including two players ranked in the top 25, No. 1 Zuzana Lesenarova and No. 25 Katarina Valkyova, both of UC San Diego.
Leading the way for the Arizona squad will be the duo of Lindsay Blau and Uzma Kahn, who are ranked No. 36 in the latest Intercollegiate Tennis Association Polls.
The men's team opens bring in a field of five singles players including Alex Aybar, Michel Stopa, Caleb Marquardt, Alex Brown and Tommy Lloyd.
The tournament, held at the Penick-Allison Tennis Center will feature 64 singles players and 32 doubles teams.
Both teams are unranked as of yet because the national rankings will not be released until later in the season.
- From staff reports