The Front Line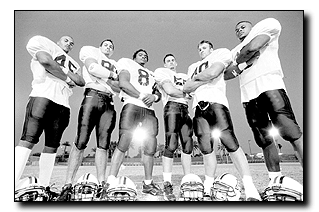 Joshua D. Trujillo
Arizona Daily Wildcat
Six of the ten members of the UA defensive front that held USC to -20 yards rushing in the Wildcats 31-24 victory. Pictured left to right is Antonio Pierce, Joe Tafoya, Idris Haroon, Mike Robertson, Marcus Bell and DaShon Polk, while Keoni Fraser, Austin Uku, James Lewis and Eli Wnek are not pictured.
Arizona Daily Wildcat, October 13, 1999
From Staff Reports
The University of Arizona's rush defense was last place in the Pacific 10 Conference heading into this past Saturday's USC game.
But the Wildcats proved statistics sometimes lie as they played their best game of the season in one of the greatest rush defense performances in the history of the UA football program.
Seniors Marcus Bell, DaShon Polk and James Lewis; juniors Idris Haroon, Mike Robertson, Joe Tafoya, Austin Uku and Antonio Pierce; and sophomores Keoni Fraser and Eli Wnek held the USC rushing attack to -20 yards as the Wildcats beat the Trojans 31-24.
UA Athletes
Defensive front seven (Idris Haroon, Joe Tafoya, Keoni Fraser, Mike Robertson, James Lewis, Austin Uku, Eli Wnek, Marcus Bell, DaShon Polk and Antonio Pierce)
Sport
Football - defensive ends, defensive tackles and linebackers
Latest Highlight
Held the USC Trojans to -20 rushing yards in the Wildcats 31-24 win on Saturday.
Players' Quotes
"We played as a team. Everyone did their job. We were having fun; it was like a reunion of last year." - Robertson
"We played with great intensity and tenacity. We just weren't going to take a loss from them."- Tafoya
"A lot of guys were playing with more enthusiasm, you could just see it out there on the film. When you see guys make plays and play with emotion, it makes the other guys around you want to play great." - Polk
Why I chose the UA
"The great defense that Coach (Rich) Ellerson played. Back in '96 when I was coming out of high school, UA was one of the top 5 defenses in the country, so that impressed me." - Haroon.
Before each game I always.
Throw-up (Bell, Polk)
Pregame meal
Protein shake (Robertson), Chicken and spaghetti "And it's all over the sideline after." (Tafoya), "It's a roll, cantaloupe, pineapple and a gator probe." (Haroon)
Favorite athletes
Roy Jones Jr. (Robertson), Michael Jordan (Tafoya, Pierce), Mike Singletary (Polk), Dan Gable (Bell), John Randle (Haroon).
Favorite sports movie
"The Program" (Robertson, Tafoya, Pierce, Haroon), "Braveheart" (Bell)
Favorite sport moment at UA
Causing a fumble in the Holiday Bowl (Robertson)
What opponent you dislike most
Arizona State (Bell, Polk, Robertson, Tafoya), UCLA (Haroon)
Greatest honor
Going 12-1 last year, finishing third in the nation and winning the Holiday Bowl, all as a sophomore" - Robertson
"My scholarship to Arizona" - Tafoya
"Winning MVP at the championship game in junior college. " - Pierce
"Last week, -20 yards rushing." - Haroon
Coach's quote
"It was real evident that the guys were enjoying themselves out there. Part of that is making plays, but more importantly they were having fun playing with each other." - defensive coordinator Rich Ellerson