Remembering 'The Stilt'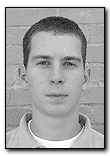 Wildcat File Photo
Arizona Daily Wildcat
Bryan Rosenbaum
Wilt "The Stilt" Chamberlain, one of the greatest players in NBA history, died yesterday at the age of 63. The cause of death is an apparent heart attack.
Few people will really understand what it means now that Chamberlain is dead. All we really heard about Chamberlain was his 100-point game in 1962 and how he had sexual relations with a large number of women.
Chamberlain won two NBA championships (with Philadelphia in 1967 and the Los Angeles Lakers in 1972), led the league in scoring for seven seasons, and averaged 30.1 points and 22.9 rebounds per game over his 14-year career.
He scored over 50 points in 118 games, 60 points or more 32 times and is the all-time leader in career rebounds with 23,924. In the 1961-62 season, he averaged 50.4 points per game.
Only Kareem Abdul-Jabbar scored more points than Chamberlain in the history of the NBA and Abdul-Jabbar played six more seasons.
In 1959-60, his first season with the 76ers, he won both the "Most Valuable Player" and "Rookie of the Year" awards.
"The Stilt" was so good that, while playing for Kansas in college, they had to widen the lane, institute offensive goaltending, and revise rules governing inbounding the ball and shooting free throws, all rules that are still in effect today.
If Wilt was around today, he'd be dominating the game's top centers like Shaquille O'Neal, David Robinson and Hakeem Olajuwon.
Not only was Chamberlain just an inch over seven feet tall, he was fast, strong and agile for a man of his size. Perhaps the most amazing of all Chamberlain's statistics was that he never fouled out.
Not once.
"Wilt was one of the greatest ever, and we will never see another one like him," Abdul-Jabbar said.
Of all Chamberlain's great statistics, the one that stands out the most and tarnishes an otherwise excellent career is the one about his sexual promiscuity.
Although he never married, he claimed in his autobiography that he had slept with over 20,000 women. This may seem a bit far-fetched and downright disgusting, considering he lived approximately 23,000 days.
Over the next few days, you'll probably hear jokes like "Chamberlain was survived by 20,000 women and 4,381 children."
It would probably be more appropriate to remember him as the most dominating player to ever play the game of basketball.