Festival features Tucson trubadours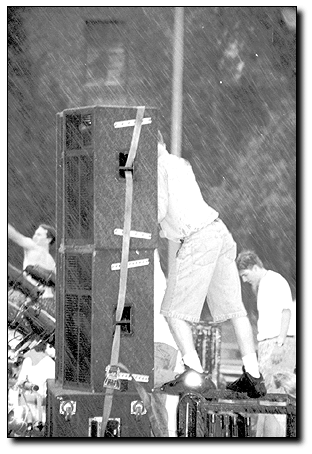 Wildcat File Photo
Arizona Daily Wildcat
Alternative band Blink 182 was slated to perform at last year's CatFest, but was rained out. This year, there has been an alternative location chosen for the concert in case of bad weather.
Although UA's collaboration board was not financially capable of presenting a star-studded CatFest for 1999, the group assembled several local bands to kick off the school year.
"The danger is if you have one major big name band that half the campus isn't interested in, you aren't going to have a big turn out and people aren't going to stay the entire night," said Laura Winsky, vice president of campus affairs.
Despite the threat of rainfall, UAB will present CatFest tomorrow for its third annual festival of free food, fun and music with local bands such as Neon Prophet, The Groovebox, Greyhound Soul and Hipster Daddy-O and the Hand Grenades.
"The plans are indefinite, even if it rains," said Madeleine Thompson, director of Rising Star Entertainment, a branch of UAB.
Where It's At Third Annual CatFest
When: Tomorrow from 5 to 10 p.m.
Where: UA Mall
Who: Several local bands, including Neon Prophet, The Groovebox, Greyhound Soul and Hipster Daddy-O and the Hand Grenades.
How Much: Free

The collaboration board - composed of the University Activities Board, the Pan-Hellenic Office, Associated Student government and the Residence Hall Association - gathers each year to organize the welcoming festival.
Last year, Blink 182 was scheduled to perform at a rained-out CatFest, and in 1997, The Refreshments filled-in for the original choice - POE.
This year, organizers of the event lacked funding to pay for a high-profile band, Thompson said.
"The CatFest is all a part of the welcome back to school week," said Diane Newman, UA commercial and UA Mall activity coordinator. "The festival develops a sense of belonging and helps students to have more fun."
Unannounced KAMP DJ's will open for the concert, which will begin tomorrow at 5 p.m. and end at 10 p.m.
The CatFest is a good way to introduce students to Tucson's local bands and help students connect with people they would not have met otherwise, said Jessica Boarfield, an Earth science education senior.
"More bands makes for more of a variety, which is great because there are so many different people here with different backgrounds." Boarfield said.
CatFest is also a way for new UA students to connect and feel welcome, she said.
"Freshmen, especially, feel lost on campus so anything that brings them together and gives them resources is beneficial to them," said Teddy Lopez, administrative secretary at the freshman year center.
Despite a line-up lacking national bands, the UAB's focus is on students' interests. After four days of the mall being covered with educational information, Friday, the final day of Welcome Week, will present the UA community with a free party.
"It's the last event for the Wildcat Welcome week," said Winsky. "The rest of the week is educational but they want to finish with a bang."